How Wickenburg, Arizona, a town of 7,000, became the rehab capital of the US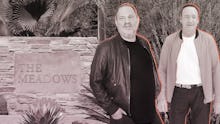 Last fall, CBS News, Fox News, the New York Post, TMZ and other news organizations abruptly decided to cover Wickenburg, Arizona, a town of some 7,000 people known for its dude ranches and high-but-not-too-high mountain range.
Wickenburg isn't some hot new tourist destination. It just happens to be home to the Meadows treatment center, the rehab facility chosen by disgraced Hollywood power players Harvey Weinstein and Kevin Spacey. Curiously, the Wickenburg Sun is the one outlet that didn't cover the arrivals of these former A-listers.
"We don't cover celebrities coming to treatment here. We usually find out about it after the national media releases a story," said Jeanie Hankins Williams, publisher of the 84-year-old weekly newspaper. "A small newspaper lacks the staff to research or verify the patients at the treatment centers."
In addition to mild weather and more than 250 treatment facilities specializing in a wide range of addictions and disorders, this discretion is a key reason Arizona has attracted some of the world's best-known troubled celebrities in recent years.
Arizona has attracted some of the world's best-known troubled celebrities in recent years.
In addition to Weinstein and Spacey, who reportedly showed up for sex addiction, Tiger Woods checked in to Meadows in 2010 for what the Arizona Republic called "libidinous female-related issues." Rapper Iggy Azalea visited an unnamed Arizona facility in 2017 to deal with anger issues; pop star Selena Gomez was at the Meadows in 2014 for undisclosed reasons; and right-wing talk-show host Rush Limbaugh worked on his prescription-pill problem at the Meadows in 2006.
Other celebrities who have headed to Arizona for treatment over the last 30 years reportedly include Ringo Starr, Michael Douglas, Kate Moss and Naomi Campbell.
"If you happen to be a celebrity — and we've treated a lot of them in Wickenburg — there isn't this sense of awe," Jim Tavary, CEO of Wickenburg Community Hospital, which provides medical services to nearby eating-disorder clinic Rosewood Ranch and previously did the same for the Meadows, said in an interview. "The understanding is they deserve the same privacy and confidentiality that everyone else does."
As its tourism site declares, Wickenburg is known for its "horses, hats, history and hospitality" — or more specifically, golf courses, guest ranches, horseback riding and Jeep tours. Phoenix and Tucson have similar facilities, but Wickenburg is a key anchor of the state's celebrity rehab towns.
"We have these major treatment centers in town that are just physically camouflaged in the desert," Tavary said. "You can drive down [U.S. routes] 93 and 60 that [go] right past the Meadows and Remuda [Ranch], and because of the nature of vegetation in the desert and the way it's laid out, you have no idea they're there. It's not a big Taj Mahal out there."
Arizona's history leans heavily on healing, beginning with centuries of Native American traditions such as herbs, diets, ceremonies, dances and prayers. Although white men wiped out much of this culture as they occupied the land, they ultimately boasted of these traditions in advertisements for medical travel to the Southwest. From 1880 to 1945, according to the Arizona Daily Star, Tucson alone had more than 30 sanatoriums for tuberculosis treatments — until antibiotics rendered them obsolete.
The trips weren't altogether painful, as guests and their families toured dude ranches and the Grand Canyon while in the area. "A lot of cowboys came out here, and it was a place of refuge," Dena Cabrera, executive clinical director of Rosewood Centers for Eating Disorders, said. "In the earlier days, we had a native healer who was part of our team, and she would come in and do some drumming and some stories — that was part of it."
In the early 20th century, Wickenburg became a sort of Wild West Disneyland for the rest of the U.S., providing horseback riding and home-on-the-range-style camping. John Wayne and Barry Goldwater were among the town's frequent visitors. Its contemporary "Rehab USA" identity began when the Meadows opened in 1975. Remuda Ranch followed in 1990, six years after Ward Keller bought the one-time dude ranch to help pull his daughter out of anorexia. (Reps for Meadows, which acquired Remuda in 2013, did not respond to interview requests.)
As a result, Arizona has come to supplement Malibu and Palm Springs, California, as a primary rehab destination.
Bob Forrest, a former rock 'n' roll frontman and addict who serves as program founder at the Alo House Recovery Centers in Los Angeles, credits Patrick Carnes (Meadows' clinical director for sexual disorder services from 1996 to 2004) for ushering in the newer focus on sex addiction. But in an interview with Mic, Forrest said he believes rehab shouldn't involve "fancy surroundings for drug addicts trying to get off drugs" and criticizes the industry for evolving into "boutique hotels more than health-and-human-services places."
Pop and rock stars in need of rehab have traveled to Arizona for years seeking a change of pace.
Arizona tourism officials inadvertently support Forrest's point. In Wickenburg, tourism officials welcome rehab clients and their families who spend money on hotels, food and shopping. Pop and rock stars in need of rehab have traveled to Arizona for years seeking a change of pace. Julia Brooks, executive director of the Wickenburg Chamber of Commerce, recalled Meadows client and R&B singer Eric Benet — and his then-wife, actress Halle Berry — wandering the community and attending July Fourth festivities in 2002.
"Medical tourism has become a very good, viable, year-round economy for Wickenburg," Brooks said. "Yes, they're involved in a program for a period of time, but in the morning they get up and they're purchasing their lodging and gas and their groceries, and on weekends they try to explore Arizona."
Arizona's rehab facilities emphasize traditional programs — first on the list of therapies on Meadows' website is a 12-step, Alcoholics Anonymous-style approach. Meadows also has a reputation for being strict, expensive and making patients cry.
But the treatment centers are also serene getaways. The Meadows program, which reportedly costs $28,000-a-month, offers yoga, meditation, acupuncture and an equine-therapy program for patients to bond with horses. US Weekly reported that treatments at the facility include carrying stuffed animals and taking a walk through a "serenity circle." Clean Adventures in Prescott, Arizona, a town of roughly 42,000 filled with mountains and lakes, takes its clients on rafting and fishing excursions. This leisurely, away-from-it-all side of rehab facilities takes advantage of the natural surroundings.
Arizona's getaway-like feel may be the biggest reason why celebrities escape to the state. They're not only working on their addictions, they're also attempting to salvage their reputations by hiding out from the rest of the world and embracing a slower lifestyle.
"There's two stoplights in the little town," Rosewood's Cabrera said of Wickenburg. "It's just a more simple life."