Potential Democratic 2020 presidential contenders just signed on to pro-union bill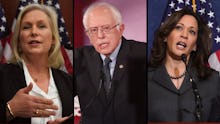 At least four rumored Democratic 2020 presidential candidates just signed on to a sweeping new piece of legislation that would dramatically expand labor rights in the United States.
The bill, introduced by Sen. Bernie Sanders, is the latest in a series of progressive pieces of legislation introduced in the Senate that have pushed Democrats left on major policy positions ahead of the 2020 Democratic primary.
The Workplace Democracy Act was introduced in the Senate by Sanders on Wednesday and is being cosponsored by Sens. Kirsten Gillibrand (D-N.Y.), Kamala Harris (D-Calif.) and Elizabeth Warren (D-Mass.), along with 10 other Democratic senators, according to the Washington Post. Gillibrand, Harris, Warren and Sanders are all speculated to be favorites to try and win the Democratic nomination for president in 2020.
The bill would make four major changes to current U.S. labor law.
First, the bill would allow employees to form a legally recognized union simply by having more than 50% of their bargaining unit sign union cards. Second, the bill will force employees in all 50 states who are represented by unions to pay some union dues. This would effectively end the current "Right to Work" law extant in 28 states.
The bill would also force employers to negotiate with a newly formed union within 10 days of receiving a request. Finally, the bill would expand the current law's definition of what an "employer" is — a provision that would likely crack down on so-called gig-economy companies like Uber, who claim that the people who work for them are independent contractors without the right to collective bargaining.
Together, these changes would represent one of the biggest expansions of union rights since the New Deal.
There is little chance of this legislation ending up on Trump's desk. However, the decision by so many potential presidential contenders to sign onto the bill will likely have an effect on the party's labor rights positions as a whole.
In 2009, President Barack Obama supported similar, albeit more circumspect, reforms by supporting the Employer Free Choice Act, a bill that would have implemented the same over 50% card-signing standard for forming a union, and would have forced management and unions into binding arbitration if they did not reach a collective bargaining agreement within 120 days of recognition.
That bill failed to ever reach the president's desk, and the efforts to pass it were effectively abandoned within the first two years of Obama's presidency.
In an era when progressives are jockeying with one another to prove their bona fides ahead of 2020, labor unions are well positioned to extract deeper commitments from prospective candidates.
Already, rumored 2020 Senate contenders have come out in favor of bills to create a federal job guarantee, implement single-payer health care and legalize recreational marijuana use nationwide. It's doubtful that all three of these provisions, in addition to the Workplace Democracy Act, could all get passed by a single Democratic administration.
However, if Democrats do manage to reclaim power in Washington over the next several years, they will be hard-pressed by their base to implement at least part of their ever-expanding progressive agenda.