Kris Jenner's new makeup line has a highlighter shade named "Your sister's going to jail"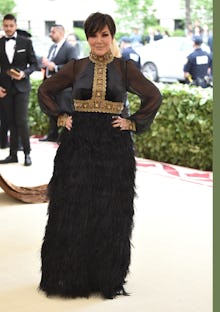 What do you get a mom like Kris Jenner for Mother's Day? Well, if you're Kylie Jenner, you give her the chance to launch her own makeup collection and take over your company's social media marketing in the days leading up to its release.
On Tuesday, Kylie Cosmetics officially became Kris Cosmetics. That is, until Mother's Day, when Kris Jenner will drop her first-ever makeup collection.
The collection, which debuted on Kylie Jenner and Kris Cosmetics' own Instagram stories, includes lip glosses, eyeshadows and a highlighter palette, which are all pretty normal.
What takes this collection from good to amazing isn't just the packaging — which sports tag lines like "You're doing amazing sweetie" — but also the names of the makeup shades Kris Jenner created. If you watch Keeping Up With the Kardashians, there are many you might find familiar, like the family matriarch's commonly used, "It's an emergency."
The pièce de résistance, though, is a highlighter shade called "Your sister's going to jail."
The line hails from one of the most iconic KUWTK scenes ever, which featured Kris Jenner in the car with Kim Kardashian West and Khloé Kardashian as the latter heads off to jail.
As Kim takes selfies of herself in the car, Kris Jenner says: "Would you stop taking pictures of yourself? Your sister's going to jail."
Iconic doesn't even begin to describe that moment.
The collection drops May 13. In the meantime, revisit the memorable scene below for old times' sake.