Exclusive: Kim Kardashian West on Alice Johnson: "I'll do whatever it takes to get her out"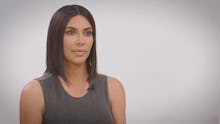 Kim Kardashian West is speaking out for the first time about why she's become involved in the case of Alice Johnson, a 62-year-old great-grandmother serving a life sentence without parole for a first-time nonviolent drug offense.
In an exclusive interview with Mic, Kardashian West confirmed she has been working for months to get Johnson released from prison and has also spoken with Jared Kushner and the Trump administration about Johnson's possible presidential pardon.
"I've been in communication with the White House and trying to bring her case to the president's desk and figure out how we can get her out," Kardashian West said. "That's such a huge step from where we started with that not even being on their radar."
Johnson's case gained widespread attention after an October 2017 Mic video in which Johnson talked about her case from inside a federal prison in Aliceville, Alabama.
Johnson, who's served more than 21 years of her life sentence, was imprisoned for her involvement in a drug conspiracy. She would need to be granted clemency from the president in order to be released.
Kardashian West said it was Mic's video that inspired her to do whatever she can to facilitate Johnson's release.
Since seeing the video, Kardashian West has brought on her personal attorney, Shawn Chapman Holley, to help with Johnson's case. (Chapman Holley worked alongside Kardashian West's father Robert Kardashian as a member of the "dream team" during the O.J. Simpson trial.)
"If you think about a decision that you've made in your life and you get life without the possibility of parole for your first-time nonviolent offense, there's just something so wrong with that," Kardashian West said.
Many criminal justice reform leaders consider Johnson's case to be one of the hallmark examples of why America needs sentencing reform. Johnson was featured in the ACLU's campaign to end mass incarceration and has also participated in Skype conversations at top universities and companies such as Google, where Mic first became aware of her story.
Although former President Barack Obama granted clemency to a record number of individuals before leaving office, Johnson was not one of them. Now, her fate could rest with President Trump.
Kardashian West is committed to working with the administration on criminal justice reform, specifically as it pertains to Johnson and others like her.
If given the opportunity, Kardashian West said she would urge Trump to pardon Johnson. "I would explain to him that, just like everybody else, we can make choices in our lives that we're not proud of and that we don't think through all the way," she said.
Kardashian West admitted that her priorities in life have changed, and that she's now eager to use her fame to help those in need, like Johnson.
"Where I'm at in my life right now, just like, to go and spend my money buying material things just doesn't satisfy me the way that it used to," she said. "To save someone's life and do that once a year, then that would make [my] heart fuller."
Kardashian West said it was serendipitous that she happened to come across Johnson's case last year. "There was a reason why I was looking at my Twitter at that moment," she said. "I was meant to come across it."
For more information on the movement to free Johnson, visit mic.com/alice.