Leomie Anderson speaks out about only being afforded certain hairstyles as a black model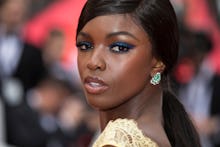 Model Leomie Anderson has long been outspoken about racist behavior in the fashion industry, from castings to makeup artists being underprepared for working with darker-skinned models, which is common knowledge among many black models in the industry.
Now she's addressing how hair stylists on photoshoots are often underprepared to work with black hair and how, as a result, black models like her are often given the exact same few hairstyles, even while more and more hairstyles are possible for black women.
"Let me just get this one off my chest real quick," she wrote on Twitter on Thursday morning. "It's 2018, ladies and gentlemen, and black girls can now have ANY hairstyle, color, length [or] texture they want via wigs."
"So why is it that for every job, without fail, they give us either a top knot (for me), straight back or this horrible messy mid bun????" Anderson, who has walked for Victoria's Secret, asked.
"Honestly I find it really lazy and I'm sick and tired of it," she continued. "How can you feel happy knowing that the black girl you chose looks exactly like all her other work? It's lazy."
One exception to this rule for Anderson was when she recently shot for Savage x Fenty, Rihanna's new lingerie line.
"That's because they had a black hairdresser who brought an array of wigs and extensions for ALL races," Anderson wrote. "Of course, the hairdresser on this shoot was black and not afraid to try something new and untested; this is the same treatment that I feel models with caucasian hair get."
What Anderson ultimately asked for is for hairdressers to be prepared, especially when they know they will be working with black models on the set. And yes, that includes hairdressers who are not black themselves.
"Non-black hairdressers, get on YouTube and learn how to at least stick a wig on and not with glue," Anderson wrote. "Watch a tutorial or two on how black women lay their wigs. Don't tell us to take our wigs off because you don't know how to stick it on and style it correctly."
These are changing times in the fashion industry, with increasing numbers of models of color and black models walking in fashion shows and landing on magazine covers. It seems only logical that makeup artists and hairstylists come prepared to work on more than one kind of model.