Trump said American detainees were treated "excellent" by North Korea's Kim Jong Un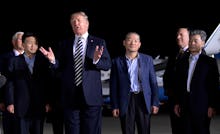 Welcome to Mic's daily read on Donald Trump's America. Want to receive this as a daily email in your inbox? Subscribe here.
Good morning from Emily Singer at Mic.
Here's what's happening in Trump's America:
• In the wee hours of Thursday morning, President Donald Trump greeted three Americans who returned to the U.S. after being detained in North Korea.
About last night: 3 Americans detained in North Korea get a hero's greeting upon their return home
Three Americans who had been detained in North Korea were greeted by President Donald Trump very early Thursday morning, upon their arrival back in the United States.
The three men flew back to the U.S. with Secretary of State Mike Pompeo, who traveled to North Korea to work out the details of a meeting between Trump and North Korean leader Kim Jong Un. Trump gave brief remarks upon the detainees' arrival.
"We want to thank Kim Jong Un, who really was excellent to these three incredible people," Trump said on the tarmac at Joint Base Andrews in Maryland. "They are really three incredible people. And the fact that we were able to get them out so soon was really a tribute to a lot of things, including a certain process that's taking place right now."
Saying Kim was "excellent" to the detainees — two of whom had been arrested and held for unspecified "hostile acts" and one for accusation of "espionage"— is sure to raise eyebrows. Previous North Korean detainees have described harsh treatment in North Korean prisons. Otto Warmbier, an American college student who was imprisoned in North Korea in 2016 and was returned to the U.S. in a comatose state, died shortly after his return. In a lawsuit filed by Warmbier's parents against North Korea, Warmbier is described as being blind and deaf, "jerking violently and howling" and having misaligned teeth upon his return.
At the Air Force base, reporters asked the detainees how they were treated. Kim Dong Chul, who had been held the longest of the three detainees, said the three men "were treated in many different ways."
"For me, I had to do a lot of labor," Kim said. "But when I got sick, I was also treated by them."
Vice President Mike Pence even told Good Morning America that one detainee hadn't seen daylight in a long time.
"The secretary of state told me that when the plane refueled in Anchorage, one of the detainees asked to go outside the plane because he hadn't seen daylight in a very long time," Pence told ABC's Jon Karl.
Today in Trump's America: Companies try to explain their payments to Michael Cohen
The revelation that major companies that had issues before the Trump administration gave hundreds of thousands of dollars to Trump's personal lawyer is continuing to rock Washington.
AT&T now says it paid Cohen as much as $600,000 — more than the $200,000 initially reported — and that it was questioned in November and December by special counsel Robert Mueller's team about the payments. The company denied to CNBC that the payments amounted to pay to play.
"A few weeks later, our consulting contract with Cohen expired at the end of the year. Since then, we have received no additional questions from the special counsel's office and consider the matter closed," AT&T said in its statement to CNBC.
The drug company Novartis also revealed that it payed Cohen $1.2 million — more than the $400,000 initially reported — to "advise the company as to how the Trump administration might approach certain U.S. health care policy matters, including the Affordable Care Act," according to the Washington Post. Novartis, too, was interviewed by Mueller's team.
Ultimately, the payments raise multiple questions about Cohen's role in the Trump administration.
Capitol Hill happenings: House members try to force immigration debate
A group of House Republicans is defying Speaker Paul Ryan as it pushes to force an immigration debate in an effort to codify the Deferred Action for Childhood Arrivals program into law.
The House Republicans are joining Democrats to sign a discharge petition to bring an immigration bill to a vote on the floor. If a majority of House members sign the discharge petition, a series of immigration bills would be released to the floor for a debate and a vote — similar to the way the Senate voted on a handful of immigration proposals earlier this year. So far 17 House Republicans have signed the discharge petition. Many of the signatories are members facing competitive re-elections in November or are moderate members who are retiring and thus have nothing to lose.
Ryan is against the discharge petition, as he doesn't want to get into an immigration debate in the middle of an election season, Politico reported. A CBS poll released Tuesday shows 57% of voters disapprove of the way Trump is handling immigration.
And the rest…
Mike Pence: The vice president has joined the anti-Mueller campaign, saying it's time for Mueller to "wrap up" the investigation in the "interest of the country."
Must-read: Former CNN journalist Peter Hamby, who now works for Snapchat, lays out the case for an adversarial press and says some journalists are failing at their job if they "give Trump — a man with a decades-long record of telling mistruths, double-dealing, obscuring facts, dodging responsibility and trashing journalists — the benefit of the doubt." Read the whole piece here.
McCain speaks out: Though he's not in Washington, Arizona Republican Sen. John McCain is still making his presence known after he announced Wednesday that he would not support Trump's CIA nominee Gina Haspel. McCain — who himself was tortured when he was a prisoner of war in Vietnam — says Haspel's role in overseeing the CIA's torture program is "disturbing" and that "her refusal to acknowledge torture's immorality is disqualifying." Haspel refused to say whether she thought torture was immoral during her Senate confirmation hearing Wednesday.