#MuteRKelly creator on Spotify removing R Kelly from its playlists: "Every little bit helps"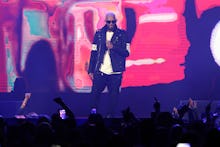 Spotify is the first widely popular streaming service to take a stand against promoting R. Kelly's music on its platform. The company told Billboard Thursday that Kelly's songs were removed from its official curated playlists. This includes popular R&B playlists such as "I Love My '00 R&B," "I Love My '90s R&B" and "90s Baby-Makers," which are programmed by Spotify employees.
"We are removing R. Kelly's music from all Spotify-owned and -operated playlists and algorithmic recommendations such as Discover Weekly," Spotify told Billboard in a statement. "His music will still be available on the service, but Spotify will not actively promote it."
The news comes after an accelerated push by #MuteRKelly and the Women of Color of #TimesUp movements to end economic support for the singer, who is accused of sexually assaulting and molesting numerous black girls and women over several decades.
The decision is part of Spotify's new hate content and hateful conduct policy, which is posted on Spotify's website.
"We don't censor content because of an artist's or creator's behavior, but we want our editorial decisions — what we choose to program — to reflect our values," Spotify's policy reads. "When an artist or creator does something that is especially harmful or hateful (for example, violence against children and sexual violence), it may affect the ways we work with or support that artist or creator."
A source close to Spotify also confirmed to Billboard on Thursday that rapper XXXTentacion's song "SAD!" was removed from RapCaviar, a leading hip-hop playlist on the platform, in accordance with its new policy. XXXTentacion is a 20-year-old Florida rapper whose album — titled ? — was No. 1 on the Billboard albums chart during the week of March 31. He allegedly assaulted his pregnant former girlfriend and has a domestic violence case pending against him.
Oronike Odeleye, who created #MuteRKelly with Kenyette Barnes in July, said she and other members of #MuteRKelly doubled down on asking streaming services to end support for R. Kelly in January. The Women of Color of #TimesUp, a coalition of filmmakers, activists and actresses, announced it would be joining the efforts in April.
"We're reaching out to Tidal, Apple streaming, Amazon Music, Pandora — all of the top ones, we've been having conversations with," Odeleye said over the phone on Thursday. "So we got farther along in conversations with some of them, more than others."
Odeleye said she was not in direct contact with Spotify about its latest decision. But she has been in talks with another popular platform, which she cannot disclose.
"I'm talking to another streaming service, [and] with news of Spotify removing R. Kelly from playlists, I reached back out to them this morning to see where they are in that process," she said. "We're going to try to make this a domino effect. We need them all to adopt this policy."
On Friday May 11, a source told Pitchfork that Apple Music quietly removed R. Kelly's music from its promoted playlists, including "Best Slow Jams of the 90s, Vol. 1" and "Vol. 2." The outlet also reported that the decision came before Spotify's announcement.
Pandora has also reportedly stopped promoting R. Kelly's music, The Blast reported Friday. His music will however remain on the streaming service so users will still be able to play Pandora's R. Kelly station.
"Pandora's policy is to not actively promote artists with certain demonstrable behavioral, ethical or criminal issues," Pandora wrote in a statement to the Blast. "We approach each of these scenarios on a case–by–case basis to ensure we address components true to Pandora's principles while not overreaching and avoiding censorship."
Kelly has been facing increased scrutiny since BuzzFeed reported in July that the singer was allegedly holding women against their will in his home. On Friday, BuzzFeed published a report featuring two women who accused Kelly of sexual abuse. Lizzette Martinez said she was in a relationship with Kelly starting in 1995, when she was 17. Another woman named Michelle says her daughter was in Kelly's alleged "cult." Michelle's last name and her daughter's names were not shared, to protect their identities. In October, Kitti Jones, a Dallas DJ, also came forward and told Rolling Stone she had been physically abused and sexually coerced by Kelly.
Multiple members of Kelly's team have resigned. On April 20, Pitchfork reported that his spokesperson, Trevian Kutti, was no longer working with him. On April 19, BBC 3 reported that entertainment attorney Linda Mensch and Kelly's executive assistant, Diana Copeland, had also left his side. Mensch said her departure was "unrelated to Mr. Kelly's social life," the report stated. Copeland and Kutti did not give reasons for their departures.
Odeleye says the #MuteRKelly movement ultimately wants to see the singer's catalog removed entirely from streaming platforms, but that today's news is the first step.
"We think he should be removed altogether," Odeleye added. "But for them to remove him from sponsored playlists is a start. Hopefully they are seeing a positive response from the community on that step, and hopefully that will convince them to take the larger step. Every little bit helps."
May 14, 2018, 10:52 a.m.: This post has been updated.