Sen. Cory Booker: We need to protect Robert Mueller from getting fired. My bill does the job.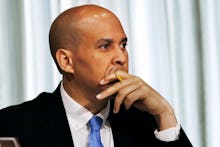 There's a growing bipartisan movement in Congress to protect special counsel Robert Mueller's job — and Sen. Cory Booker (D-N.J.) is helping to lead the charge.
"What we have right now in America is a strange system where a president can order the firing of [Mueller] ... for whatever whim they have," Booker said in an interview. "That shouldn't happen. Somebody should not be able to fire a person that's investigating them or their colleagues."
In April, Booker, joined by Sens. Lindsey Graham (R-S.C.), Chris Coons (D-Del.) and Thom Tillis (R-N.C.), sponsored a bill seeking "requirements and limitations with respect to the removal from office of a special counsel." The bill seeks to create a fail-safe that would prevent Mueller — or any special counsel — from being fired without cause.
"What we have called for in our legislation is judicial review to make sure that if the firing happens, that it is for cause and not just some attempt to undermine the course of justice — to, in many ways, obstruct justice," the Democratic senator said of his proposal. "And so we've created what we believe is a commonsense, pragmatic check and balance to presidential power. It's how our government was designed in the first place."
But though the bill has bipartisan support in both the House and Senate, the top Republican in either chamber has telegraphed that they believe such a bill will not be necessary.
"We do not believe that he should be fired," House Speaker Paul Ryan (R-Wisc.) said in April. "We do not believe he will be fired,"
Senate Majority Leader Mitch McConnell (R-Ky.) went further, affirming that, despite support for the bill from within his own party, he would not bring the measure to a vote.
"We'll not be having this on the floor of the Senate," McConnell stated.
But despite the Senate leader's signal to his fellow Republicans, the GOP-controlled Senate Judiciary Committee still passed the bill in late April.
"Some have raised the question of why the committee plans on proceeding with the markup despite the fact that the majority leader has indicated that he will not take this bill up on the floor," Sen. Chuck Grassley (R-Iowa), the committee's chair, said of the vote. "The views of the majority leader are obviously important to consider, but they do not govern what happens here on the judiciary committee."
In an exclusive video op-ed for Mic, Booker makes the case for his bipartisan legislation. Watch it above.