'RuPaul's Drag Race' season 10, episode 8: In the Cher musical, a seasonlong underdog finally won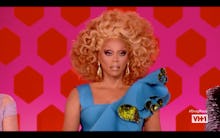 Hello, my wistful little watermelons. Welcome to Fundamental Reading, the weekly column where we chat about RuPaul's Drag Race.
Thursday's episode featured the season's second musical challenge, just in case the PharmaRusical in episode two wasn't annoying enough on its own. This time around, however, the queens had a much tougher job. They were tasked with dancing and singing — not lip syncing — in a Cher-themed musical, where each queen portrayed Cher from a different Ch-era in her career.
It kicked off with the Moonstruck-themed "slap out of it" mini-challenge, in which each queen had to convincingly react to Ru's theatrical stage slaps — except for, in Asia's case, an accidental, very real wallop to the face. Then, Ru revealed assignments for each queen, which were as follows.
• Kameron Michaels: 1960s, "I Got You Babe" Cher
• Monét X Change: Cher's '70s, very cringey Native American "Half Breed" look
• The Vixen: '70s Cher from her performance with the Jackson Five
• Aquaria: Disco-era Cher
• Asia O'Hara: Moonstruck, movie star Cher
• Eureka: Rock-star Cher
• Miz Cracker: '90s-comeback Cher
After some not-so-smooth rehearsals with choreographer Todrick Hall, it was show time. The musical kicked off by showing a string of made-up Cher tweets — all of which were oodles more comprehensible than anything Cher herself has actually tweeted — in which she reminisced about her career through the decades. The queens then performed their numbers chronologically, as though we were being taken on a nostalgic journey through Cher's memories. Or something.
Kameron, ever the quiet one of the bunch, did a shockingly good job opening the show with a number based on Cher's "Bang Bang (Baby Shot Me Down)." Kameron's number had the sparsest musical arrangement, which put a huge amount of emphasis on her singing. She definitely won't be getting any record deals off of it, but she started the show off confidently and without too much cringe.
Monét was up next and slayed her quirky number about Cher's history of appropriating other cultures, which she sung while wearing a Native American headdress.
The middle of the musical, however, was a mess. The Vixen, Aquaria and Asia all sleepily slid around the stage, flubbing their lyrics and barely hitting their choreography. At one point, Asia forgot her words and just sashayed across the stage in silence. She managed to play it off well, ad-libbing a line about forgetting her lyrics, but yikes. It was rough. Aquaria was the best of the middle bunch, but it was still clumsy.
Things picked up a little bit during Eureka's rock 'n' roll section, but the effortless confidence she has exuded the whole season was nowhere to be found. She gained a little energy toward the back end of her number, but it never felt like she hit her stride.
Miz Cracker's number was last, which featured a "Believe"-inspired tune. The whole thing hinged on a gag in which her voice was modulated with that song's famous auto-tune effect. Cracker nailed Cher's mannerisms, but the auto-tune made it a little difficult to understand what she was actually singing.
Once the queens finished their triumphant group finale about cockroaches and Cher — the last two things that'll survive the apocalypse — the show ended with a sequence I'm convinced was engineered specifically to make me squeal: a Burlesque reference. All at once, the queens shouted "Wagon Wheel Watusi" and did a little jig. I'm still trying to pick my jaw up off the ground.
(If you're not familiar, an infamous scene from Burlesque features a doe-eyed Christina Aguilera pleading with Cher, who owns a burlesque club, for a job as a dancer. Cher loudly commands Christina to prove she's "got it" by telling her to do a choreographed dance to "Wagon Wheel Watusi" as a befuddled Stanley Tucci nervously fiddles with a pencil. I love that awful movie so much, you guys.)
After the "Glitterrific" runway challenge — more on that below — the judges deemed Kameron Michaels the week's winner, which marked her first win of the season. To me, that felt well-deserved: Monét was the strongest in the musical, but her runway was far weaker than Kameron's. I would've slightly preferred Cracker to win — to me, her runway was stunning — but it's about time Kameron got some recognition for her solid performances thus far.
Ru plopped lip-sync assassin The Vixen in the bottom for the third time this season, this time against Asia, in a lip sync to "Groove Is in the Heart" by Deee-Lite — yet another choice designed, I'm convinced, to make me fall out of my chair. That song is a certified bop, y'all. Both The Vixen and Asia were an absolute deee-light here, but Asia just barely edged out her competition.
As mentioned above, this was The Vixen's third time in the bottom two, and it seemed like Ru just didn't think she deserved to stay instead of Asia, sending The Vixen home. As always, Mic will have an interview soon with the eliminated queen. Stay tuned for our chat with The Vixen.
Before we recap each runway look, I need to mention how dearly I loved the little kiki Asia and The Vixen had while they were doing their makeup before the musical performance. Knowing that The Vixen has had a lot of anger toward Eureka for weeks, Asia pulled The Vixen aside to give her some advice. Very astutely, Asia pointed out that The Vixen's anger toward Eureka was likely rooted in her conflicts with racism in her hometown of Chicago, and that Eureka had, in many ways, become an outlet for that anger.
"Every time The Vixen has had to take a backseat to someone that had more privilege than her, all of that anger has been bottled up — and it is now directed toward Eureka," Asia said in a face-to-cam confessional.
"Whatever happens between you and her," Asia said to The Vixen, "I want to make sure it's because of Eureka specifically and not something bigger than us that we really have no control over. Can't nobody take your feelings from you or tell you your feelings are not valid, but make sure you understand why you're angry and what you're angry at."
Other queens have tried to help The Vixen control her anger before, but it's always been about policing her tone of voice rather than delving into the root of her actual emotions. Asia's approach clearly worked more successfully than any other attempts thus far: It's the first time The Vixen seemed receptive to this kind of feedback, and the interaction ended with the two embracing. Looking back, this heart to heart only made their end-of-episode lip sync that much more heartbreaking. My poor little heart was a puddle. Though always polarizing, The Vixen was a Drag Race powerhouse, and she'll be sorely missed.
Here's how every queen did on the "Glitterrific" runway this week, in the order they appeared.
Kameron Michaels
Kameron served yet another Stepford Wives-esque look in a rose gold jumpsuit with a long, floral cape that trailed behind her.
Judges' final ranking: Winner
Monét X Change
Monét sure loves a jumpsuit, doesn't she? This week, it was sheer, black and glittery, which she accessorized with heavily smeared black makeup around her eyes. Unfortunately, the tape she used to hold parts of the jumpsuit together were clearly visible.
Judges' final ranking: High
The Vixen
This was The Vixen's strongest look to date, with a level of polish on the runway she simply wasn't delivering up to this point. In particular, I love the way her angular, sculptural hair reflected the geometry of the dress.
Judges' final ranking: Eliminated
Aquaria
Aquaria apparently had a premonition about the 2018 Met Gala, and emerged on the runway in an androgynous, Catholic-inspired getup, complete with an oddly disco-like halo affixed to her head. Her eyes were entirely covered in a sheer veil coated in rhinestones, which made it nearly impossible for her to see anything.
Judges' final ranking: Bottom three
Asia O'Hara
Asia strutted onto the runway looking like a gay scarecrow clown, with zig-zagged, neon yellow hair bursting out from beneath her cone-shaped hat. This was Asia's strongest look to date: It had the absurdity and craftsmanship of her Tweety Bird outfit, but without the overt cultural reference that made it a little tacky. The judges' biggest problem with this look was that her shoes were a matte suede that didn't match with the overwhelming sheen of the jumpsuit.
Judges' final ranking: Bottom two
Eureka
Eureka wore a floor-length, metallic gown accented with sunset-colored diamond shapes that created an iridescent illusion. It was gorgeous, but Michelle Visage didn't think the striped makeup on her face was necessary.
Judges' final ranking: Safe
Miz Cracker
Cracker's runway this week was my favorite of the night. Her copper-colored dress was beautiful on its own, but the jaw-dropper was the golden ring surrounding her head, which held up a small, golden skull vomiting glittery strands of gold across her left shoulder. The left side of her face was entirely coated in gold, too, as though some glittery affliction was spreading across her body.
Judges' final ranking: Safe