Tinder's new terms agreement requires you to email them if you want out — you have 28 days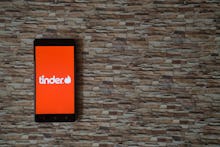 Tinder isn't making it easy to opt out of a new section in its terms of service.
Some Tinder users have noticed a terms and conditions change within the app. The company added changes surrounding "retroactive and prospective arbitration." Basically, the dating app is preventing users from taking it to court.
The addition can be found in section 16. In bold, the terms state that existing users have the ability to opt out of this restriction, but it isn't easy. Instead of including an opt-out button within the app, users will have to email Tinder. The offer comes with an expiration date: Users must email tinderoptout@match.com within 30 days from Tuesday.
Tinder users who want to opt out must send the company their full name, email address, actual address and phone number attached to their Tinder account.
The terms of service addition is likely a response to Tinder's age discrimination lawsuit. The dating service was accused of discriminating against its older users. While younger users were charged $9.99 or $14.99 per month for the premium version, users older than 30 were asked to pay $19.99 per month. In announcing the ruling against Tinder, the judge jokingly claimed to "swipe left." The app was charged with discrimination and was forced to stop charging older users more money.
Tinder has spent a lot of time in courts lately. With the help of its owner, Match, Tinder is suing Bumble. According to the lawsuit, Bumble copied Tinder's "world-changing, card swipe-based, mutual opt-in premise" — aka the swipe left/swipe right interface. Bumble founder Whitney Wolfe helped found Tinder but left the company and filed a lawsuit alleging sexual harassment during her time there. The results of the case could help limit competition from other dating sites for Match group, which also owns OkCupid, PlentyOfFish and more, though other companies, like Facebook, will soon offer their own dating options.
Tinder's terms of service update will make suing the company harder in the future. Though users who want to retain their right to do so can email tinderoptout@match.com by June 7.
We've reached out to Tinder for comment and will update this post with any response.