Get to know the game-changing models fronting the Savage x Fenty campaign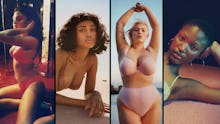 The lingerie industry may never be the same after Friday.
Savage x Fenty, Rihanna's new lingerie line, drops at midnight, and with it an uber-inclusive campaign with models who are curve, plus size, genderfluid and a variety of skin tones. The sizes of the lingerie go up to at least a 44DD and 3XL, and the line appears to feature a range of bras and underwear in inclusive nudes.
That all sends a pretty clear signal to Victoria's Secret: Watch your back.
Ahead of the line dropping, we wanted to get to know a little bit more about each of these models, who are only adding to our inclination that Savage x Fenty is about to shake up the lingerie biz.
Model and artist Sahara Lin, who's represented by Elite models in New York and Tess Management in London, was the model who spoke about love and marriage in her Savage x Fenty video.
She's Chinese, Welsh, Dominican and Puerto Rican, was raised in Wales and Brooklyn, and she's worked for the likes of Kenzo and Calvin Klein. She got Vogue's attention back in 2016 when she had braces, but even now with those gone, she's still obviously killing it.
Audrey Ritchie is the model who spoke about her "really giant boobs" in her Savage video.
In real life, she's a hugely popular plus-size model and Instagram maven, with more than 120,000 followers to her name. She's long pushed for a body-positive agenda, posting plenty of images that are all about self-acceptance.
Already seen in two Savage x Fenty campaign images, 18-year-old plus-size model Lulu Bonfils, who's signed to Muse, has been seen in Vogue Italia and has appeared in campaigns for Nike. She's popular on Instagram too, with more than 50,000 followers.
Leomie Anderson is the most recognizable model so far in the Savage campaign, having regularly walked for Victoria's Secret and Jeremy Scott, with regular features in British Vogue.
Stella Duval, a curve model also represented by Muse, appeared in her own Savage campaign video to speak about being stereotyped as sexy because of her body shape, and wanting to show different aspects of herself in photoshoots.
The 20-year-old model has appeared in campaigns for Levi's, Milk Makeup, Ann Taylor Loft and Mango.
Jazzelle Zanaughtti made Mic headlines when she debuted in her own Savage video, when the gender-fluid model spoke out about gender, and people's assumptions of her.
"People think that I look like a boy, some other people say like, she has to be gay," Zanaughtti said in the video. "Oh it's trendy to be, you know, gender fluid... I think that I'm honestly just like one big gender fuck."
With more than 440,000 Instagram followers, Zanaughtti has been seen walking in shows like Gypsy Sport as well.
Mopesola, a model who's represented by Nii Agency, has appeared in Heroine magazine and campaigns for YSL, and has walked in shows including John Lawrence Sullivan and Fortie.
Model Tia Jonsson, who has a skin pigmentation disorder, has modeled for Off-White and boasts an Instagram following of more than 60,000.
Faith Tian Jaggernauth aka @fleurdefoi
Not much is known about Faith Tian Jaggernauth. But she's a self-described modern-day Edie Sedgwick, mixing modeling with a lively Instagram, where she posts modeling shots and casual pics with friends.
Model and artist Akua Shabaka got the pleasure of debuting what could be part of Rihanna's inclusive nude lingerie collection earlier this week. Apart from this Savage shoot, Shabaka is one of the designers behind the brand House of Aama and has worked with both Gucci and Vogue.
Model Avery Tharp, who has a gap-toothed smile, has walked for the likes of Opening Ceremony, appeared in Adidas campaigns alongside Kendall Jenner and been cast in editorials for Vogue España and Interview.
And that's just all the models who have been confirmed in this Savage x Fenty campaign, with more surely to come soon.