Movement Must-Reads: U. of Florida commencement debacle, plus age discrimination in the job market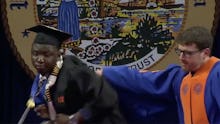 Receive The Movement newsletter in your inbox every week! Subscribe here.
Kanye West and Childish Gambino have dominated the news cycle this past week, but some of Mic's best reporting covered topics that have flown largely under the radar.
From shifting approaches to lesbian sex on film, to age discrimination in the job market, to the violence students of color face on college campuses — even in the places you'd least expect — these stories offer readers new perspectives on aspects of our educational, professional and cultural lives that we easily take for granted.
From Mic:
Natelegé Whaley did some follow-up reporting on last weekend's debacle at a University of Florida commencement ceremony, where a robed school employee was caught on video shoving violently manhandling several black students onstage who celebrated when their names were called. Though Mic was unable to independently verify his identity, students Whaley spoke to identified the employee as a lecturer in the chemistry department. He has been placed on paid administrative leave pending an internal investigation.
Jake Horowitz interviewed Kim Kardashian West about her mission to get Alice Johnson, a 62-year-old great-grandmother serving a life sentence without parole for a first-time nonviolent drug offense, out of prison.
James Dennin's insightful piece about age discrimination in the job market.
Brianna Provenzano's excellently reported piece about the movement in California for free college tuition.
And Anna Swartz's analysis of the often-exploitative history of lesbian sex scenes in films, and how Rachel Weisz's new drama Disobedience tries to avoid the mistakes of the past.
From elsewhere:
Ta-Nehisi Coates' lyrical breakdown of Kanye West's descent into right-wing inanity, for the Atlantic.
The New Yorker's story about the physical abuse allegations facing former New York Attorney General Eric Schneiderman, which prompted the 63-year-old to resign from his position this week.
And Doreen St. Felix's spot-on examination of Donald Glover/Childish Gambino's brutal, jarring music video for "This Is America," also for the New Yorker.
That's all for now. Until next week.