We talked to 3 curve Savage x Fenty models on what this inclusive campaign means to them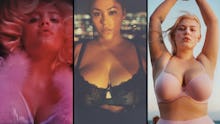 At midnight, Rihanna finally launched Savage x Fenty, her highly anticipated lingerie collection, with 90 items and five different collections, including inclusive nudes, to immediate internet applause. From the campaign images to the models used on the Savage website, Rihanna has yet again brought diversity to the forefront.
Models Lulu Bonfils, Stella Duval and Audrey Ritchie, three of the plus-size and curve models featured in the first Savage x Fenty campaign, couldn't feel happier right now.
"It makes me feel really proud," Bonfils, who shot her part of the campaign back in February, said in an interview. "There were a lot of moments with this job where I realized that this is something that is more mainstream and it's going to change things. It's going to show actual people's bodies. It's really rare for a mainstream lingerie brand to even consider plus girls."
It is indeed exceedingly rare for a new lingerie brand with as much attention on it as Savage x Fenty has right now to launch with a campaign — and website images too — that feature this degree of diversity with its models. This includes a wide array of plus and curve models — like Molly Constable, Tay Gosling and Sanam — models with skin pigmentation disorders, models like Diandra Forrest with albinism and gender-fluid models. But that's exactly what Savage x Fenty did.
"She's stopping everyone and saying come on, wake up," Duval said in an interview. "She's starting a revolution in a way, and saying, 'Watch out, Victoria's Secret.'"
"The everyday woman — and even teens — they look up at pictures of Victoria's Secret models and say, 'OK, that's cool and that's amazing, but that does not look like me,'" Ritchie said in an interview. "I've had the issue of looking at something and thinking, 'Well I don't look like that, so why would I get that piece?' With Savage, there's curves with smaller breasts, and then there's me with giant breasts."
How each of these models ended up in the campaign varies. Duval was a model for one of Rihanna's Fenty Beauty foundation shades. Bonfils is convinced someone involved in the campaign knew her through some convoluted way, maybe via her parents' neighbors' daughter. Ritchie got connected after starring in a campaign for Rihanna's best friend Melissa Forde's hat line.
Savage's campaign stars — who are known as "Savages" — aren't the most popular models on earth, some with less than 10,000 followers on Instagram, which only adds to the diversity of the models themselves.
"These models come from a lot of different backgrounds, and a lot of what I loved about it is they weren't casting the most popular girls on Instagram," Bonfils said. "It was really interesting to be around a lot of driven young women."
When each of the models got the call, they were in disbelief.
"I never thought I'd make it here as a model, as a curve model especially," Duval, who's now shot campaigns for Levi's, Milk Makeup and Mango, said. "I would say that I'm honored. It's like, me? Little old me?"
The idea that this collection, which goes from basics to super-sexy corsets, keeps size inclusivity at the forefront, with bra sizes up to a 44DDD and underwear and loungewear sizes up to 3XL, was particularly thrilling to these three models. All of them have struggled finding the right lingerie for themselves because of their sizes.
"It's always been hard when it came to that," Ritchie, who's a 36G and wore a 38DDD in her campaign video, said. "My fit is just not there and I always have spillage."
Duval, who's signed to Muse and a 38D, has struggled finding bottoms that fit her, and Bonfils, who's signed to Muse as well, has struggled finding sexy bras in her size.
"I'm a 36E, so I've known the struggles," Bonfils said. "If you see bras in your size, it's nude and totally plain, and then the AA cups are crazy beautiful and lacy. That's always been weird to me because on the male gaze-y side, you're usually sexualizing women with large breasts but as a woman with large breasts you can't sexualize yourself."
Wanting to feel sexy yourself, rather than be sexy for someone else, is already a pillar of this new Rihanna lingerie business. Before Savage launched, Rihanna told Vogue: "Women should be wearing lingerie for their damn selves. ... I want people to wear Savage x Fenty and think, 'I'm a bad bitch.' I want women to own their beauty."
Looking at the campaign and the website itself, there's a different mood than many other lingerie companies. The models voices are heard in a number of videos, talking about whatever they please: their bodies, their sexualities, their gender, whatever they want. It's about the women — not just their bodies — feeling themselves, expressing themselves and living how they choose.
"I just hope that she can change the industry," Duval said. "It's OK to be a different size and a different color. I'm just so tired of seeing the same old thing and there's so many lingerie brands that are not getting it. We want more, let's change with the times, let's move on."
Now that the campaign has launched, and they're officially part of this brand, what would they say to Rihanna?
"I would just tell her that she is a hero and a legend," Duval said. "It's so cool that she's branched off and is doing all these things to help young women be happy in their bodies and wear the makeup they want to wear and be able to wear lingerie and be sexy and feel good about it."