Trump promised to "drain the swamp" — but Washington is getting swampier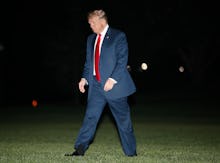 It was October 2016, a couple weeks before election day. Then-candidate Donald Trump had spent more than 30 minutes shouting his greatest campaign-trail hits to an adoring Pennsylvania audience, running through a setlist of slams against Hillary Clinton, "stupid" establishment lawmakers and of course, the "fake news media." Finally, he launched into one of the most defining refrains of his campaign.
"The media, the special interests, Wall Street, the career politicians — the system is rigged, and I've been saying it for a long time, and believe me, I'm right, but with your help, we're going to beat the system and we're going to unrig the system," Trump said. "It's time to drain the swamp in Washington, D.C."
Trump was elected on a nationalist, "America First" platform. But nearly as important to his political identity was the image of himself he sold to voters as an anti-establishment figure standing in stark contrast to career politicians like Clinton, a Washington insider, whom he insisted was steeped in "corruption."
Nearly a year and a half since Trump took office, "the swamp" hasn't changed much — in fact, Trump appears to be making Washington even swampier. The most recent illustration of this fact comes via Michael Cohen, his longtime lawyer and fixer, who appears to have been using his personal access to Trump to score lucrative consulting gigs with major corporations seeking to navigate a Washington turned upside down by the new president. Critics have described what Cohen has been up to as "pay to play."
"I'm crushing it," Cohen told an associate in 2017, according to the Washington Post, in regard to his pitches to potential clients.
It's not clear if he did anything illegal in cutting deals with AT&T, Swiss pharmaceutical firm Novartis, Korea Aerospace Industries and Columbus Nova, an investment firm tied to a Vladimir Putin-connected Russian oligarch. If he can stick to his story that he merely provided counseling, according to the Guardian, he may not have been required to register as a lobbyist.
Nevertheless, his lawyer's actions could at least amount to pretty bad optics for a president who ran on the premise that he would unleash Washington from the control of "donors, special interests or lobbyists" — and that he would surround himself with "the best people" in order to do so.
"This week's revelations of AT&T and other companies paying Michael Cohen for access to the president show how weak our lobbying transparency laws are and that a system of 'pay to play' still thrives in Washington," Danielle Brian, executive director of the Project On Government Oversight, said in an email.
Indeed, in addition to the scandal surrounding Cohen, the Trump administration has often had the look of a feeding frenzy, with Trump and those around him facing frequent accusations of attempting to profit from his presidency.
Take Scott Pruitt, who is currently the subject of 11 different probes into his conduct as the director of the Environmental Protection Agency and his myriad conflicts of interest. The allegations against him include potentially improper spending of taxpayer dollars, cronyism and shady dealings with industry groups and lobbyists — including his renting of a D.C. condo owned by the wife of an energy lobbyist for a paltry $50 per night.
Rather than draining Pruitt from the swamp, Trump has stuck by him. "Scott is doing a great job!" he tweeted last month.
Pruitt is hardly alone with his conflicts of interest in the Trump administration. Housing and Urban Development Secretary Ben Carson, senior advisers Jared Kushner and Ivanka Trump and former Health and Human Services Secretary Tom Price are among the other members of Team Trump to face significant questions about cronyism and profiting from their positions. And that's not even counting the former staffers — including former Trump campaign chairman Paul Manafort and former national security adviser Michael Flynn — who have been brought down by special counsel Robert Mueller's Russia investigation.
Of course, Trump's own behavior has repeatedly raised ethical questions. At the same time in the campaign he was promising to "drain the swamp," Trump was mired in scandal, facing allegations of sexual assault and fending off legal challenges to his Trump University and the Donald J. Trump Foundation, which were accused of fraud and self-dealing, respectively.
Meanwhile, Trump has been accused of lacking transparency, most famously for his repeated refusal to release his tax returns, as well as his failure to fully distance himself from his business. As it's turned out, it is often difficult to separate his business interests from his actions as president.
"Better legislation to require disclosure by stealth lobbyists can greatly help 'drain the swamp,' but the president can also make the immediate decision to stock his administration and surround himself with people who are far less swampy," Brian said. "Both are needed to chip away at the 'pay to play' system of influence peddling in D.C."