Instead of traveling on Memorial Day, head out on these summer weekends for the best travel deals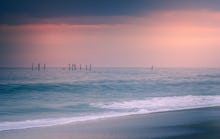 Potentially record-high gas prices and no vacancies may mean that your dream of finding a last-minute Memorial Day getaway is shot. But if you can deal with staying home while the rest of the world is celebrating the beginning of summer, traveling on a different weekend means that you're likely to have a much more affordable vacation.
Hotel prices surge during long-weekend holidays. For example, the average rate for hotels over Memorial Day is 37% higher than over a nonholiday summer weekend, according to new data from Hipmunk. It's all the more reason to book a summer holiday on a random weekend. Hipmunk crunched the numbers and found that on certain dates in certain destinations, the discounts can be major. Check out the weekends and their corresponding locations below, and then get booking for the best deals. For the lowest prices, Hipmunk pulled from trips that check in on Friday or Saturday and check out on Sunday or Monday.
June
The most ideal vacation if you're staying home for Memorial Day? The weekend after. If you can get away from June 1 through June 4, Ocean City, Maryland, might be the place for you. Hotels there are down 14% compared to regular summer weekends. If you've been California dreaming, on the other hand, San Fransisco hotels will also see a drop in 14% that weekend.
On June 8 through the 11, hotels in Daytona Beach, Florida, will see a 14% price drop.
You can choose between city or sea on June 15 through June 18: Vacation rentals in Southampton, New York, are down a whopping 43%, while hotels in Chicago will see a decrease by 19%.
If you're feeling lucky this summer, plan a long weekend trip to Las Vegas from June 22 to June 25. The cost of vacation rentals there will by down by 38%. For a chiller holiday, book a rental in California's South Lake Tahoe, where you'll benefit from a 16% price drop.
From June 29 through July 2, you can have your pick at vacation destinations. Rentals in Ocean City will be down again — this time by 44%. Las Vegas rentals will also see a dip by 30%. In Bowling Green, Kentucky, hotels are down by 23% and in San Diego, vacation rentals will be 21% cheaper. The Red Sox will be out of town this weekend, so if you don't care about an empty Fenway Park, snag a Boston hotel for 20% cheaper than they'll be on other summer weekends.
July
Celebrate America's independence just two days after the fact and you'll pull off some major savings. On July 6 through July 9, hotels will be less expensive in New York City (24% decrease), San Francisco, (22% decrease) and Boston (17% decrease). If you're traveling with a group, vacation rentals in Houston will be down by 29% and in Ocean City by 25%.
Vacation rentals from July 13 through July 16 will also see a price dip in Las Vegas (24%), Myrtle Beach, South Carolina (23%), and San Diego (20%). Hotels in America's capital will be down by 21%.
July 20 through July 23 may be ideal for rounding a group of friends together and getting out of town. In Ocean City, rentals will be down by 33%. Rochester, New York, rentals will be down by 28% in this month. In Spring Branch, Texas, and Myrtle Beach, rentals will see a decrease of 22%. The cost of Seattle rentals will drop by 18% this weekend.
The last potential long weekend in July, the 27th through the 30th, might be a great time to head to Pensacola, Florida, where rentals will see a huge dip of 49%. Rentals in Myrtle Beach will also drop by 18%.
August
When the last full month of summer comes around and everyone in the office is wearing sundresses and shorts to fake that vacation feel, go for a long weekend from Aug. 3 to Aug. 6. Rent a place in Virginia Beach, Virginia, where costs will be 34% less than average; Irvine, California, where there will be a 21% dip; or even Los Angeles, where rentals will decrease by 13%. You could also book a hotel in Bowling Green this weekend, where prices will be 22% cheaper than usual.
The weekend of Aug. 10 through Aug. 13 is a big one for saving: Choose between rentals in Brooklyn, New York (down 37%), Las Vegas (down 27%), San Diego (down 24%), Los Angeles (down 17%), San Francisco (down 17%) and Santa Cruz, California (down 16%).
Explore all that the city of Washington has to offer the weekend of Aug. 17 through Aug. 20, when hotel prices will drop by 21%. Or head to Myrtle Beach, where costs will decrease by 14%. If this is your weekend to invest in a rental, those in Charleston, South Carolina will be 16% cheaper than average, and Seattle rentals will also be lower by 17%.
The last weekend in August — right before Labor Day — surely calls for some extra time away. From Aug. 24 through Aug. 27, the cost of vacation rentals in Ocean City will see a big, 38% decrease, while those in San Diego will be lower by 23%. Hotels in Washington and Chicago will be less expensive by 17%. At 16% cheaper is Myrtle Beach, where you can have one last summer beach getaway.