Trump is back in campaign mode — but have the cable networks learned their lesson?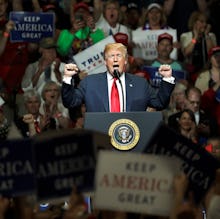 Welcome to Mic's daily read on Donald Trump's America. Want to receive this as a daily email in your inbox? Subscribe here.
Good morning from A.P. Joyce at Mic.
Here's what's happening in Trump's America:
• Trump's schedule kicks off in the late morning. At 11.45 a.m. he'll attend a roundtable with automaker CEOs.
• At 2 p.m. he'll give remarks on lowering drug prices.
• At 2:30 p.m. White House press secretary Sarah Huckabee Sanders will give the daily press briefing.
• Then at 3:45 p.m. Trump will meet with Secretary of State Mike Pompeo.
About last night: Trump is back in campaign mode — but have cable networks learned their lesson?
As midterm season approaches, President Trump has returned to the campaign trail, reminding Americans of what it was like just two years ago when then-candidate Trump held rowdy, sometimes violent campaign rallies.
Today in Trump's America: Staff defection
Coming into Friday, Trump seems to be having issues with several members of his top staff.
Capitol Hill happenings: Rep. Devin Nunes goes to war with Trump's Justice Department
A new feud has pitted House Intelligence Committee Chair and Trump loyalist Devin Nunes against Trump's own Justice Department over information pertaining to a confidential intelligence source.
And the rest…
John Bolton: The hawkish national security adviser has finally found a war he doesn't want to fight. Bolton reportedly wants to scrap the White House's top cybersecurity job, even as the U.S. continues to learn more and more about the role Russian hacking played in the 2016 election.