"A big mistake": AT&T CEO issues mea culpa over hiring of Trump lawyer Michael Cohen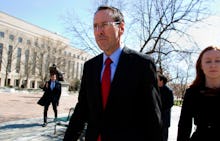 AT&T CEO Randall Stephenson acknowledged in a company-wide memo Friday that the telecom giant made a "big mistake" in hiring President Donald Trump's personal lawyer, Michael Cohen, as a consultant.
"Our company has been in the headlines for all the wrong reasons these last few days, and our reputation has been damaged," Stephenson wrote. "There is no other way to say it — AT&T hiring Michael Cohen as a political consultant was a big mistake.
"To be clear, everything we did was done according to the law and entirely legitimate," he continued. "But the fact is, our past association with Cohen was a serious misjudgment. In this instance, our Washington, D.C., team's vetting process clearly failed, and I take responsibility for that."
On Thursday, the Washington Post reported on AT&T documents that detailed the $600,000 deal the company made with Cohen in exchange for his legal counsel on a wide array of pending federal issues — including the company's proposed $85 billion merger with Time Warner.
Information on the sizable payments various corporate clients had made to Cohen since Trump's inauguration was first released by Michael Avenatti, the media-savvy attorney for adult film actress Stormy Daniels. Avenatti published a report Tuesday describing the millions of dollars a shell company set up in Cohen's name had received.
Among the companies reportedly vying for insight into the mercurial Trump administration were a Korean defense company competing for a U.S. military contract as well as Swiss pharmaceutical company Novartis, which reportedly paid Cohen $1.2 million for better understanding of the Trump administration's approach to health care policy. Columbus Nova — a company which reportedly has ties to a Russian oligarch who was previously been questioned by special counsel Robert Mueller's team — gave $500,000 to Cohen's shell company between January and August 2017.
That shell company, Essential Consultants, was the same entity Cohen used to issue a $130,000 hush-money payment to Daniels in 2016 in exchange for her silence on an alleged extramarital affair she claims she had with Trump a decade earlier.
Despite flip-flopping on whether he had knowledge of the $130,000 payment at the time it was made, Trump has repeatedly denied having sex with Daniels.
Mueller, who is investigating possible ties between the Trump administration and the Kremlin, contacted AT&T and Novartis last fall regarding the payments to Essential Consultants.