While You Weren't Looking: 5 stories from the Trump administration that aren't about Michael Cohen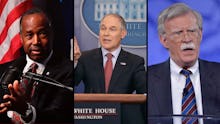 This week was yet another whirlwind of news about President Donald Trump's personal attorney Michael Cohen, with the revelation that several major companies, including one tied to a Russian oligarch, were paying money into the shell company he used to pay Trump's alleged mistress.
While the media spent days trying to make sense of that tangled web, a host of important policy decisions and important stories were coming out of the Trump administration.
Here's what you may have missed.
Bolton wants to eliminate the White House's top cybersecurity job
White House national security adviser John Bolton has never met a national security conflict he didn't want to escalate. That is, until now.
Bolton has apparently proposed eliminating the role of special assistant to the president and cybersecurity coordinator, according to Politico. The position is currently held by Rob Joyce, who has already announced his departure.
Upon entering the administration, the bellicose Bolton had advocated for an aggressive cybersecurity policy that would target Wikileaks and Russia with a retaliatory attack.
But now that he's officially joined the president's national security team, he apparently no longer thinks the threat of a cyber attack requires a full-time position on the national security council.
Mick Mulvaney doesn't want you to see how many consumer complaints his donors recieved
Interim head of the Consumer Financial Protection Bureau Mick Mulvaney doesn't like the fact that his agency allows people to see consumer complaints made against the financial industry.
"I don't see anything in here that I have to run a Yelp for financial services sponsored by the federal government," Mulvaney said in April to the American Bankers Association. "I don't see anything in here that says that I have to make all of those public."
And it turns out Mulvaney has a good reason for not wanting people to see those complaints.
According to a report from the consumer advocacy group Public Citizen, eight of the top 10 companies that have received the most complaints have all donated to Mulvaney's political campaigns over the years. Of the top 30 companies to receive complaints, 19 of them gave Mulvaney $140,500 collectively.
Mulvaney is required by law to maintain the database, but may not be required to make it public and is reportedly mulling changes.
White House kills pandemic response team just in time for a new Ebola outbreak
Rear Adm. Timothy Ziemer, the man in charge of responding to pandemics at the National Security Council, has left the White House and will not be replaced. The team working under him will also be disbanded as part of a shakeup by national security adviser John Bolton, who oversees the council.
Ziemer's last day in the White House was Tuesday, which, as the Washington Post points out, is the same day that a new Ebola outbreak was declared in central Africa.
The move also comes at a time when experts are already warning that the Trump administration may not be well-prepared for a new global pandemic, were one to strike in the near future.
Scott Pruitt reportedly needed extra security because someone drew a mustache on his picture
Environmental Protection Agency administrator Scott Pruitt has justified his first class flight travel and extensive security detail by citing potential threats he faces on the job because of his high profile.
But a new report from BuzzFeed finds that Pruitt's security concerns were less than pressing.
BuzzFeed obtained documents showing that the inspector general for the Environmental Protection Agency opened three cases looking into potential threats to Pruitt's security. All three were reportedly closed due to lack of evidence of any significant risk.
One of the more notable "security" cases involved somebody drawing a mustache on a Newsweek magazine cover with Pruitt's face on it and taping it to the inside of an elevator in the EPA building.
Another involved a letter sent to the EPA from an 85-year-old angry about Pruitt's climate change denial that read, "I hope you and your kind die and choke to death of cancer of the guts, slowly in agony, and rot forever in a toxic sewer in hell forever!"
Civil rights group sues Ben Carson for ending an anti-housing-discrimination measure
The National Fair Housing Alliance, a housing and civil rights organization, is suing the Department of Housing and Urban Development for scrapping agency rules that are designed to protect against housing discrimination.
The initial 2015 rules were put in place after a report from the Government Accountability Office found that local jurisdictions across the country were not doing enough to combat housing discrimination.
After the rule took effect, those jurisdictions had to take affirmative steps to combat discrimination in order to receive funding from HUD. Now those jurisdictions will be able to return to the old system where they faced less scrutiny.