One year in: What we know and what we think we know about the Mueller investigation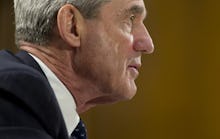 When the Department of Justice tapped Robert Mueller to lead the FBI's Russia probe a year ago, the move was hailed by Democrats and Republicans alike.
"Robert Mueller is a superb choice to be special counsel," Newt Gingrich, one of President Donald Trump's most ardent supporters, tweeted after his appointment May 17, 2017. "His reputation is impeccable for honesty and integrity."
"Mueller is exactly the right kind of individual to serve as special counsel in the Russia investigation," Senate Minority Leader Chuck Schumer said of the former FBI director at the time.
But in the year since Deputy Attorney General Rod Rosenstein appointed Mueller, Washington has grown sharply divided over his investigation. The president and his conservative allies have relentlessly attacked Mueller and his team, characterizing the probe as a politically-motivated "witch hunt" and calling for it to be shut down, while Democrats — and some Republicans — have scrambled to prevent Trump from firing or undermining the special counsel.
Mueller, meanwhile, has appeared to run a methodical, tight-lipped investigation, which has already resulted in nearly two dozen indictments and several guilty pleas, and that may pose a significant threat to Trump's presidency.
What we know Mueller did
For the first several months of Mueller's probe, his prosecutors interviewed members of the Trump campaign, transition and White House — hardly making a sound, but for the steady stream of reports related to the investigation that seemed to suggest key figures in the president's orbit were facing significant legal peril.
Then, in the fall of 2017, he made his first big move.
On Oct. 30, he indicted former Trump campaign chairman Paul Manafort and his deputy, Rick Gates. The two pleaded not guilty to charges related to the work they did for pro-Russian interests in the Ukraine before joining the Trump campaign. That same day, the special counsel revealed he had already secured a guilty plea from George Papadopoulos — the former campaign aide whose drunken comments in 2016 to an Australian diplomat would later be revealed to be what triggered the probe in the first place.
Mueller kept rolling, and just over a month later notched another guilty plea. This time, it was from former national security adviser Michael Flynn, who pleaded guilty Dec. 1 to a charge of making false statements to the FBI over his contacts with then-Russian ambassador Sergey Kislyak.
After Flynn flipped, the president and his allies began to more explicitly attack the special counsel and his investigation, accusing federal law enforcement of anti-Trump bias and suggesting that the investigation improperly relied on the controversial Steele dossier that alleged the Kremlin had been "cultivating, supporting and assisting Trump for at least five years" with the aim of encouraging "splits and divisions in western alliance." 
That didn't derail Mueller, who continued to issue indictments into the new year. In February, he charged 13 Russian nationals and three Russian entities over 2016 election interference. Then, Alex Van Der Zwaan — a former associate of Gates — pleaded guilty to lying to the FBI. Later that month, Gates cut a plea deal with Mueller and the special counsel issued a superseding indictment for Manafort.
All told, Mueller's investigation has yielded nearly two dozen indictments; at least four guilty pleas; and one imprisonment. Three former Trump staffers are cooperating with the special counsel, and he is continuing to investigate possible collusion and obstruction of justice on the part of Trump and his campaign.
What we think Mueller did
In addition to the many public actions the Mueller investigation has taken over the past year, there are a number of interesting elements of the Trump-Russia saga that Mueller is believed to be investigating, and which we still know very little about. Though the investigation rarely, if ever, leaks its findings, reporters have discovered a number of key areas of focus Mueller is said to be looking into.
To start, there is the infamous 2016 meeting between Donald Trump Jr., and a Kremlin-connected Russian lawyer in Trump Tower. Mueller is said to be investigating the details of that meeting, where Trump Jr. supposedly sought dirt on Hillary Clinton. More on that later.
Then there are the potential conversations between Trump ally Roger Stone and former Wikileaks founder Julian Assange. In an August 2016 email, Stone claimed to have had dinner with Assange. The supposed meeting would have taken place between the release of hacked DNC emails and the release of stolen emails from Clinton's campaign chairman John Podesta. Stone denies the meeting actually took place. However, his longtime aide and friend Sam Nunberg — the man to whom Stone sent the email — made a series of distressed cable news appearances in March, in which he suggested that the Mueller investigation was targeting Stone and had broad knowledge of campaign activities.
Then there's the mysterious meeting between Blackwater founder Erik Prince and a Russian official that took place in the Seychelles in January 2017. Mueller is reported to be investigating the meeting where the parties allegedly attempted to set up a backchannel between the Russian government and the Trump administration. The meeting was brokered by representatives from the United Arab Emirates, and Mueller is reported to have obtained the cooperation of a Lebanese-American businessman, George Nader, who is an adviser to UAE and could have important information about that country's role in the whole imbroglio.
There's also a series of small mysterious avenues Mueller is said to be investigating that we know little to nothing about. For instance, Mueller is reportedly investigating the german banking giant Deutsche Bank, a major lender to both the president and his son-in-law Jared Kushner. Mueller has also reportedly asked for records into Trump's business dealings, and may or may not have already interviewed the Soviet-born Felix Sater, a mercurial figure in the Trump orbit with ties to both the Russian mob and U.S. intelligence, and who is said to have played a role in Trump's efforts to build a Trump Tower in Moscow.
The cover-up vs. the crime
In addition to the the vast web of potential ties between Russia and Trump Mueller is believed to be investigating, there's also the entirely separate issue of whether or not Trump obstructed justice by trying to shutdown or obfuscate the investigation itself.
Here is where that meeting between Trump Jr. and a Russian lawyer takes on new importance. Mueller is believed to be investigating Trump's response in the moments just before and after the New York Times broke the story that the meeting took place, including whether or not Trump coordinated an effort to mislead the public about the nature of the meeting.
Mueller has interviewed Hope Hicks, one of the earliest Trump campaign officials, who reportedly helped craft the president's response to the news. He also sought an interview with Mark Corallo, the former spokesman for Trump's legal team who reportedly claims Hicks tried to keep the public from seeing Don Jr.'s emails about the meeting.
In addition, Mueller is reportedly looking into the circumstances that led to his investigation in the first place, including the firing of former FBI Director James Comey, and attempts to fire Attorney General Jeff Sessions.
On this front, Mueller has been looking into a number of figures in and around the White House. In June of 2017, it was first reported that Mueller was seeking interviews with Director of National Intelligence Dan Coats, head of the National Security Agency Adm. Michael S. Rogers. Both men are believed to have been approached by Trump in the lead-up to the Comey firing about potential help ousting the FBI director.
Mueller has also interviewed former FBI Deputy Director Andrew McCabe, who was also fired by the Trump administration and has been the target of a smear campaign by the president himself.
What's still to come
Of course, a big factor in his investigation will likely be whether Trump winds up agreeing to be interviewed by the special counsel's prosecutors.
Mueller reportedly wants to ask Trump questions about his son's 2016 meeting with a Kremlin-connected attorney who supposedly had dirt on Clinton, as well as the 2017 firings of Flynn and Comey, among other topics.
But Trump's legal team has been wary of allowing Trump to testify before the special counsel. Famously loose with the facts and careless with his language, Trump could potentially incriminate himself, his lawyers reportedly fear.
Rudy Giuliani, one of the newest additions to the president's stable of lawyers, has said recently that a decision wouldn't be made on a potential interview until after Trump's expected June 12 summit with North Korean leader Kim Jong Un.
"I wouldn't want to take his concentration off something far, far more important," Giuliani told the Associated Press May 12.
Meanwhile, another probe into Trump's longtime fixer Michael Cohen has intensified following the April raid the FBI conducted under referral from Mueller. Both investigations represent significant political and legal threats to Trump and members of his circle.
For his part, Trump has alternated between suggesting that the Mueller investigation is nearing completion and launching angry Twitter tirades against it.
"The Mueller probe should never have been started in that there was no collusion and there was no crime," Trump tweeted in March. "WITCH HUNT!"