The White House seems more upset about leak than aide's joke about John McCain dying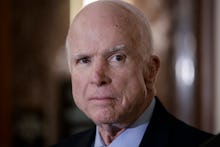 The White House still has not offered a public apology for an aide's joke about Sen. John McCain (R-Ariz.) dying, but it does appear to be upset about one thing: The fact that Kelly Sadler's tasteless dig against the ailing Republican leaked into the media.
Sarah Huckabee Sanders, the White House press secretary, berated her staff after Sadler's comment about McCain was reported, calling the leak "unacceptable," according to ABC News.
Mick Mulvaney, the White House budget director, told CNN on Saturday that while Sadler's remark was "awful," the aide should "have freedom to speak in a private meeting, to speak candidly."
"We've all said things in private, especially in smaller groups that we work with, that we would never say publicly," Mulaney said.
Sadler — a special assistant in the White House communications department — reportedly mocked McCain, who was diagnosed with brain cancer in 2017, during a White House meeting over his announcement that he would not support President Donald Trump's pick for CIA director, citing her role in the agency's torture program years earlier.
"It doesn't matter," Sadler said, according to the Hill. "He's dying anyway."
According to the New York Times, the joke was met with a mixture of gasps and laughter from the nearly two dozen people in the closed-door meeting. Nobody challenged her, according to a person present.
Sanders, who has not denied the account of the joke, said in a press briefing Friday that the administration has "respect for all Americans," but would not apologize for the remarks — even when a reporter asked directly why she hadn't.
Sadler's comment drew widespread scorn from across the political spectrum — and drew particular ire from McCain's friends and family.
"People have wondered when decency would hit rock bottom with this administration," former Vice President Joe Biden, a friend of McCain's, said in a blistering statement Friday. "It happened yesterday."
McCain has long had a rocky relationship with Trump and his allies.
Trump infamously mocked his war service during the campaign and has taken a number of jabs at the Arizona senator since assuming the presidency. McCain, meanwhile, has been one of the president's most prominent Republican critics and apparently does not want Trump at his funeral.
McCain has also broken with Trump on some policy matters.
In 2017, he killed the Republicans' "skinny repeal" of the Affordable Care Act with a last minute thumbs-down vote — something that Trump has continued to bash the maverick Republican for.
On Wednesday, McCain — who was tortured as a prisoner of war in Vietnam — said in a statement that Gina Haspel's role in a Bush-era CIA torture program was "disturbing" and "disqualifying."
The announcement not only elicited a cheap shot from Sadler, but also from a Fox News analyst, who on Thursday claimed that torture "worked" on McCain, whom he mocked as "Songbird John."
Political commentator Meghan McCain — the senator's daughter — dismissed the remarks about her father in a response on the View Friday.
"My father's legacy is going to be talked about for hundreds and hundreds of years," she said. "These people? Nothing burgers."