This week in Trump-Russia news: How the Russia and Cohen probes are starting to dovetail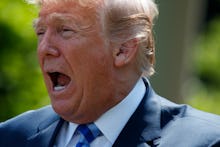 President Donald Trump has been operating lately in the shadow of what appears to be two separate FBI probes: the Robert Mueller investigation and the criminal probe into his longtime personal attorney and fixer, Michael Cohen.
But revelations this week about Cohen's apparent access-trading following the 2016 election appear to show how the two investigations dovetail.
Here's what went down in the Russia investigation this week:
Cohen paid by company linked to Russian oligarch
What began as a scandal over an affair Trump allegedly had with adult film actress Stormy Daniels appears to be morphing into much more — and seems to have some overlap with the Russia investigation.
Cohen, who says he paid Daniels $130,000 of hush money out of his own pocket in 2016, was apparently using his proximity to Trump to score shady, lucrative consulting jobs with corporations — including one linked to a Vladimir Putin-connected Russian oligarch.
Columbus Nova — an investment firm tied to Russian oligarch Viktor Vekselberg — paid Cohen $500,000 between January and August 2017. The money went to Essential Consulting, the same shell company the lawyer used to pay Daniels for her silence regarding the affair she says she had with Trump in 2006.
It's not clear if Cohen did anything illegal in peddling his access to Trump, nor is it clear what Vekselberg's involvement could mean, but special counsel Mueller has reportedly questioned Vekselberg over the payments.
The FBI raided Cohen in April, acting on a referral from Mueller.
The longtime Trump lawyer is under investigation for a number of possible crimes, including possible campaign finance violations related to the payout to Daniels.
Michael Avenatti, the attorney representing Daniels, has questioned the purpose of the $500,000 payment to Cohen from Columbus Nova.
"What's the explanation for the half a million dollars worth of payments?" Avenatti asked CNN's Anderson Cooper Tuesday. "Michael Cohen should not have been accepting money, especially under the circumstances at this time, from anybody with Russian ties, quite frankly."
Giuliani delays decision on Mueller interview
Rudy Giuliani — one of the president's newest lawyers — will likely push back a decision on the potential interview between Trump and Mueller until after the president's June summit with North Korean dictator Kim Jong Un.
"I wouldn't want to take his concentration off something far, far more important," Giuliani told the Associated Press Saturday.
Giuliani was brought onto Trump's legal team to quickly "negotiate an end" to the Mueller probe. But after stunning remarks about the Cohen probe, the Russia investigation and even North Korea dominated headlines in recent days, the president has reportedly grown irritated with the former New York City mayor.
Mueller is reportedly interested in interviewing Trump to ask him questions related to possible collusion between his campaign and Russia, as well as potential obstruction of justice on his part.
But Trump's legal team has been wary of such an interview, fearing that the president could incriminate himself.
Trump announced Thursday that his expected summit with Kim is scheduled to take place June 12 in Singapore.
"We will both try to make it a very special moment for World Peace!" Trump tweeted.
Pence joins Trump in knocking Mueller probe
Meanwhile, the president has continued to bash the Mueller investigation, saying there was no collusion and that what critics have termed obstruction of justice is really just him "fighting back."
He also accused Democrats of conjuring up a "Phony Witch Hunt" to use as a weapon against him in the upcoming midterms.
"Republicans better get tough and smart before it is too late!" he tweeted.
Trump bashing the Russia investigation is nothing new, perhaps, but a new voice joined the president's chorus of supporters this week calling for the Mueller probe to end.
In an interview with NBC News Thursday, Vice President Mike Pence — not normally a visible figure in the Russia probe — said that the administration has "fully cooperated" with Mueller's investigators and that the special counsel and his team should "bring their work to completion."
"In the interests of the country, I think it's time to wrap it up," Pence said.