Trump administration promises 'prosperity' for North Korea after denuclearization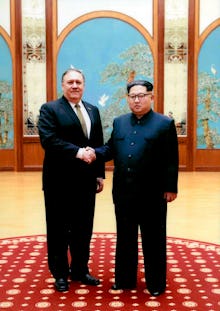 With 30 days left to go before President Donald Trump and North Korean leader Kim Jong Un's historic June 12 summit in Singapore, North Korea is continuing its promises to dismantle its nuclear program — although Trump allies are taking a skeptical view toward the upcoming negotiations.
The North Korean government announced Saturday its intention to dismantle its nuclear testing site, inviting international journalists to witness the dismantlement "ceremony" later in May. Kim had already announced the country's intention to shut down the site following talks with South Korean leader Moon Jae-in.
To dismantle the site, tunnels to the testing site will be collapsed using explosives, and the government will block entry to the site and remove all observational facilities, research institutes and guard structures, according to CNN.
Trump praised the North Korean announcement on Twitter Saturday, describing it as "a very smart and gracious gesture!"
Kim's decision to dismantle the nuclear site potentially puts North Korea one step closer to denuclearization. In interviews Sunday, Trump cabinet members Secretary of State Mike Pompeo and national security adviser John Bolton both stressed the "complete, verifiable and irreversible denuclearization" as a key condition of the upcoming U.S.-North Korea negotiations.
"Our ask is the complete and total denuclearization of North Korea, and it is the president's intention to achieve that," Pompeo said Sunday in an interview on CBS's Face the Nation. "As he's said, we'll see if that works, but we're setting the conditions for a successful meeting between the two leaders."
In an interview on ABC's This Week, Bolton added that though denuclearization is "at the core" of the upcoming negotiations, that demand goes beyond "just nuclear weapons."
"We've got the ballistic missile issues on the table, we've got to look at chemical and biological weapons. There are a range of things to discuss," Bolton said Sunday, adding that the question of whether Kim will "come through" on the large demand is "the reason why the president is both optimistic but realistic at the same time."
"I think that we will at least see whether the decision on North Korea's part to give up nuclear weapons is something they're prepared to carry through on, and then other discussions could occur," Bolton added. "I don't think anybody believes you're going to sign the complete ending of the nuclear program in one day."
The country's commitment to total denuclearization, Bolton said Sunday, is necessary before the U.S. will extend any potential benefits to North Korea, speculating that if they do denuclearize, a future in which North Korea could be a "normal nation" is possible.
"[Permanent, verifiable and irreversible denuclearization is] something that has to happen before the benefits start to flow," Bolton said on ABC Sunday. "I think the objective for North Korea is whether they want to become a normal nation."
"We want to see the denuclearization process so completely underway that it's irreversible," Bolton added about the U.S.'s terms.
As for what these "benefits" for North Korea could look like, Pompeo pointed Sunday to investment from private American companies, rather than direct U.S. foreign aid, as the most likely way in which the U.S. would help North Korea in the event of denuclearization.
"We can create conditions for real economic prosperity for the North Korean people that will rival that of the South, and that is our expectation. It won't be U.S. taxpayers, it will be American know-how, knowledge, entrepreneurs and risk takers working alongside the North Korean people to create a robust economy," Pompeo said.
"The president has a commitment, and he will make this commitment to Chairman Kim, I'm confident, that says, 'If you do the things we need to do so that America is no longer held at risk by your nuclear arsenal, and that you get rid of your [nuclear program], we'll ensure that your people have the opportunity for the greatness that I know Chairman Kim wants them to have,'" Pompeo added.
The secretary of state noted Sunday that he had communicated this trade-off to Kim directly during the two officials' recent meeting in Pyongyang, North Korea. When asked about his impressions of the North Korean leader, Pompeo described Kim as "knowledgable" and "very capable of engaging in complex set of discussions."
"When I ask him a question about something that's a little off, he answers it," Pompeo said about Kim. "There's no notecards, it is Chairman Kim, in this case, interacting with me directly, having a robust discussion about what the outlines of a successful negotiation between our two countries might ultimately be."
Though North Korea's plans to dismantle its nuclear site represents a positive step, questions still remain over whether the country will come through on its nuclear promises. North Korea has promised denuclearization in the past, only to later renege on its agreements — something that Pompeo acknowledged Sunday.
"Only time will tell how these negotiations will proceed," Pompeo said. "We [still have] a lot of work to do. The American leadership under President Trump still has its eyes wide open. It could be that we won't be successful, it's possible. We acknowledge that, we've watched this fail before. But the model that's been employed here is fundamentally different, and we're hopeful that we will get a fundamentally different outcome."