At least 25 dead in violent protests in Gaza, as US prepares to open new embassy in Jerusalem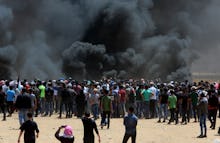 Welcome to Mic's daily read on Donald Trump's America. Want to receive this as a daily email in your inbox? Subscribe here.
Good morning from Emily Singer at Mic.
Here's what's happening in Trump's America:
• The U.S. embassy in Israel moves from Tel Aviv to Jerusalem on Monday, sparking violence. Trump won't be there.
About the weekend: The White House still won't apologize for cruel joke about John Mccain
The controversy over a White House aide's callous remark about Sen. John McCain (R-Ariz.) continues to plague the West Wing, as Trump administration officials refuse to apologize for the aide's remark.
Last week, Kelly Sadler, an assistant in the White House communications shop, said Mccain's opposition to CIA director nominee Gina Haspel didn't matter because he is "dying anyway." Instead of apologizing, some White House aides defended Sadler and are instead more concerned by the fact that her comment leaked to the press.
White House press secretary Sarah Huckabee Sanders angrily told her staff that the leak was "unacceptable," ABC News reported.
"We've all said things in private, especially in smaller groups that we work with, that we would never say publicly," White House budget director Mick Mulvaney said on CNN Saturday, adding that Sadler should "have freedom to speak in a private meeting, to speak candidly."
This comes from a White House that was up in arms about a joke comedian Michelle Wolf made about Sanders' eyeshadow at the White House correspondents' dinner in April.
Mercedes Schlapp, another White House communications staffer, defended Sadler. That's in stark contrast to Schlapp's outrage over the Wolf joke, which led Schlapp and her husband to "leave" the WHCD early. (In fact, the couple left a few minutes before the event ended and took a limo to an after-party hosted by MSNBC.)
Today in Trump's America: New U.S. embassy in Jerusalem opens
The U.S. embassy in Israel will officially move from Tel Aviv to Jerusalem Monday — a major decision that is being hailed by supporters of Israel but also sparking violent protests by Palestinians in Gaza.
At least 25 Palestinians have already died in protests in Gaza, the Associated Press reported, making it one of the deadliest days in the Israeli-Palestinian conflict in years. But that hasn't stopped the celebration from both Israeli and Trump administration officials, who feted the move at an event Sunday.
"President Trump is making history," Israeli Prime Minister Benjamin Netanyahu said on Sunday during a celebratory event, according to the Washington Post. "Our people will be eternally grateful for his decision to recognize Jerusalem as Israel's capital."
Trump himself is not attending the opening Monday. Instead, he sent a delegation to represent him, which includes Jewish members of the White House such as Treasury Secretary Steven Mnuchin, first daughter Ivanka Trump and her husband Jared Kushner. Ivanka Trump posted photos early Monday morning of the delegation with Netanyahu.
"Thank you Prime Minister @netanyahu & Mrs. Netanyahu for the warm welcome to Israel. I am honored to join you & the US Delegation in commemorating the dedication of our new @usembassyjlm & celebrating the friendship between our two countries."
Aside from the violent protests and opposition to the move by the United Nations, there's another controversy surrounding the embassy opening. Two controversial pastors are speaking at the event opening: John Hagee and Robert Jeffress.
Jeffress — who also preached to Trump before his inauguration — has said that Islam is an "evil religion" that "promotes pedophilia," that Mormonism comes "from the pit of hell," that the Catholic Church represents "the genius of Satan" and that gay people are "filthy" and "prone to disease."
Hagee suggested in a sermon from the 1990s that Adolf Hitler — who killed 6 million Jews — was sent by God to bring the Jewish people to Israel.
"God says in Jeremiah 16: 'Behold, I will bring them the Jewish people again unto their land that I gave to their fathers. ... Behold, I will send for many fishers, and after will I send for many hunters,'" Hagee said, according to a transcript of the sermon published by CNN. "'And they the hunters shall hunt them.' That would be the Jews. ... Then God sent a hunter. A hunter is someone who comes with a gun and he forces you. Hitler was a hunter."
Mitt Romney, the former 2012 GOP presidential nominee who is now running for Senate in Utah, condemned Jeffress' inclusion in the embassy opening.
"Robert Jeffress says 'You can't be saved by being a Jew,' and 'Mormonism is a heresy from the pit of hell.' He's said the same about Islam. Such a religious bigot should not be giving the prayer that opens the United States Embassy in Jerusalem," Romney tweeted.
And the rest…
Virginia state House control: An error by election officials in Virginia likely cost Democrats control of Virginia's House of Delegates, according to an investigation by the Washington Post.
Pillow talk: Trump and Fox News' Sean Hannity talk before bedtime on most nights of the week, New York magazine reported. Hannity is one of Trump's fiercest defenders and uses his Fox News show to both explain away Trump scandals and try to get Trump on message.
Betsy DeVos: The education secretary has, for all intents and purposes, disbanded a special unit within the Department of Education set up to investigate fraud and abuse by for-profit universities, the New York Times reported. Many of DeVos' top staffers worked at for-profit universities before joining the Trump administration, according to the New York Times' report.
Trump and China: Trump raised eyebrows over the weekend when he said he wants to get Chinese electronics company ZTE "back into business, fast." The U.S. fined ZTE $1.2 billion for violating sanctions placed on Iran and North Korea, according to CNN.