Benedict Cumberbatch calls on other male actors to use their privilege to advocate for equal pay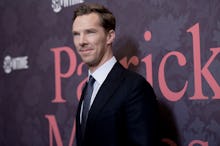 In the fight to close Hollywood's gender pay gap, actors are increasingly using their bargaining power to advocate for equal pay — and Benedict Cumberbatch is among them.
In an interview with Radio Times published Sunday, the 41-year-old actor — known for his work in the BBC series Sherlock and as Doctor Strange in the Marvel Cinematic Universe — said it's important for male actors to use their privilege to advocate for pay equity.
"Equal pay and a place at the table are the central tenets of feminism," Cumberbatch said, on Radio Times. "Look at your quotas. Ask what women are being paid, and say: 'If she's not paid the same as the men, I'm not doing it.'"
Cumberbatch went on to say he's just one of two men at his production company SunnyMarch, and that he uses the company to surface women-led projects that might not see the light of day otherwise.
"Our next project is a female story with a female lens about motherhood, in a time of environmental disaster," he said. "If it's centered around my name, to get investors, then we can use that attention for a raft of female projects."
Cumberbatch, who stars in the upcoming Showtime series Patrick Melrose, is just the latest actor to call on his peers to advocate for pay equity. At the Academy Awards in March, Frances McDormand — who won best actress for her role in Three Billboards Outside Ebbing, Missouri — advocated for the use of "inclusion riders" in actors' contracts. This term describes a stipulation in an actor's contract that requires the film's cast and crew meet a certain level of diversity. In the wake of her comments at the Oscars, a number of people in the industry — including actors Ben Affleck, Matt Damon and Brie Larson and Bridesmaids director Paul Feig — vocalized support for these riders.
In January, months before McDormand's speech, actress Octavia Spencer said she and Jessica Chastain teamed up to ensure they both received fair pay for an upcoming holiday film. Chastain spoke up after Spencer told her about the increased pay discrimination women of color face, according to HuffPost.
"She said, 'Octavia we're gonna get you paid on this film. .... You and I are gonna be tied together," Spencer said. "We're gonna be favored nations, and we're gonna make the same thing.' ... Fast forward to last week, we're making five times what we asked for."
Over at HBO, similar changes are taking place due to advocacy by Big Little Lies actress Reese Witherspoon and the Time's Up movement. In April, HBO executive Casey Bloys said the network had "made sure there were no inappropriate disparities in pay" across all of its shows, according to the Hollywood Reporter.
"We just finished our process where we went through and made sure that there were no inappropriate disparities in pay; and where there were, if we found any, we corrected it going forward," Bloys said. "And that is a direct result of the Time's Up movement [and conversations with Big Little Lies actress Reese Witherspoon.]"
Bloys clarified, however, that these changes in pay were not across-the-board, saying that sometimes it makes sense to pay actors at different rates based on a variety of factors — initially, at least.
"When you're putting a show together, people come in with different levels of experience and maybe some people have won awards or something that makes them stand out," Bloys continued. "But when you get into season two or three of a show and the show is a success, it is much harder to justify paying people wildly disparate numbers."
It's not clear whether Cumberbatch advocated for equal pay on his most recently released film, Avengers: Infinity War, in which he plays Doctor Strange. Mic has reached out to Cumberbatch for clarification and will update with any response.