What Rihanna's new Savage x Fenty inclusive nude collection could mean for the future of lingerie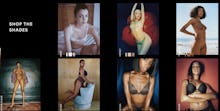 Before the official Savage x Fenty launch, the idea of Rihanna releasing a collection of inclusive nude lingerie was our pipe dream. Surely, Rihanna would focus on more eye-catching lingerie rather than nude basics, we thought. And we were wrong.
Rihanna revealed a collection Friday within her Savage x Fenty line of inclusive nude lingerie, with bras and underwear in seven different shades: bare, honey, tobacco, brown sugar, spiced, cocoa and caviar.
While plenty other huge and more senior companies have just started to get into inclusive nude lingerie — Aerie, Asos and Target included — Rihanna's first line of lingerie ensures that women can more easily find a shade that matches their skin tone.
"I was surprised!" Cora Harrington, the founder of the "Lingerie Addict" blog, said in an email. "Like many, when the announcement was first made regarding Rihanna's lingerie collection, I did not expect her to focus on basics. However, I think it's a smart move that could pay off in major ways over the long term."
When we ourselves were pondering the idea of what Savage x Fenty would be, we reached out to the founder of Nubian Skin, which was founded in 2014 as one of the first companies to focus entirely on inclusive nude lingerie, and asked how she would feel seeing someone like Rihanna maybe, possibly get into this market.
"We'd be lying if we said the thought of competing with a massive star isn't daunting, but women of color deserve options, and we have a clear vision of what we're trying to do with NubianSkin, and a Fenty Beauty Lingerie line wouldn't detract from that," Ade Hassan, founder and CEO of NubianSkin, said in an email. "If anything, having someone as well known as Rihanna championing the issue means everyone will be talking about it."
Almost immediately after the Savage launch, Hassan's premonition came true, as Twitter was abuzz with how wonderful it was that she included nudes that would match more than one skin tone.
After the launch, Mic reached back out to Nubian Skin, and they again stressed that this shows how important this market is within the industry. "Having someone as popular as Rihanna talking about this means that more people will pay attention," a Nubian Skin spokesperson said via email.
And more attention is definitely still needed, as Harrington explained.
"The nudes market is still underserved in the intimate apparel industry," Harrington wrote. "Several brands that debuted nude shades in the wake of Nubian Skin have since rolled them back, and even those that kept their nudes market them poorly... usually on white models with little reference to them being an option for women of color. Personally speaking, a nude lace bra in my skin tone is going to be the first thing I buy from the line, and I doubt I'm alone in that."
Although there are plenty people talking about Savage x Fenty's need to expand its sizing, Harrington added that expanding its nude shades wouldn't be a terrible idea either. "Expanding the nudes range first would be a great way to capture more of the market," Harrington said.
If anything, what all of Rihanna's new businesses have proved is that she and her team are excellent at starting conversations within the beauty industry — and now lingerie industry. Maybe with Savage x Fenty, Rihanna will help boost this still-underserved market and prove to the lingerie industry that women of color want to spend their money on quality pieces too, and shouldn't be an afterthought.