The Supreme Court's decision on sports gambling actually has serious implications for immigration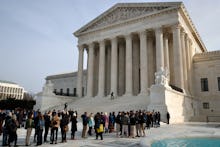 The U.S. Supreme Court struck down a federal law prohibiting states from legalizing sports betting on Monday in a case that could have far-reaching implications in states' rights cases, including controversial ones like those of sanctuary cities.
Justice Samuel Alito wrote the majority opinion in the case of Murphy v. National Collegiate Athletic Association, which will allow states to set their own laws for gambling on sports.
"The legalization of sports gambling requires an important policy choice, but the choice is not ours to make," Alito wrote in the opinion. "Congress can regulate sports gambling directly, but if it elects not to do so, each state is free to act on its own."
The defendant in the case was the state of New Jersey, whose residents voted in 2012 to amend the state constitution to authorize sports gambling. Then-Gov. Chris Christie then took on the Professional and Amateur Sports Protection Act, a 1992 law that restricts states and other government entities' ability to "sponsor, operate, advertise, promote, license, or authorize by law or compact" sports gambling. The law included a "grandfather" provision, which allowed certain existing sports gambling practices in Nevada and three other states to continue.
New Jersey Gov. Phil Murphy took over the case from Christie. The specific law being challenged in court was a 2014 New Jersey law, which did not specifically authorize sports gambling. Rather, the law repealed the state law provisions that prohibited sports gambling involving the "placement and acceptance of wagers" by adults aged 21 and older at horse racing tracks and casinos in Atlantic City.
"I am thrilled to see the Supreme Court finally side with New Jersey and strike down the arbitrary ban on sports betting imposed by Congress decades ago," Murphy said in a statement. 
"New Jersey has long been the lead advocate in fighting this inherently unequal law, and today's ruling will finally allow for authorized facilities in New Jersey to take the same bets that are legal in other states in our country."
The Supreme Court justices struck down PASPA based on the anti-commandeering doctrine, which draws on the 10th Amendment to prohibit the federal government from "commandeering" state governments and imposing orders on them — a doctrine that PASPA violated by requiring states to be the ones to take action against sports gambling, rather than imposing a federal ban.
"The legislative powers granted to Congress are sizable, but they are not unlimited," the court's opinion noted. "And conspicuously absent from the list of powers given to Congress is the power to issue direct orders to the governments of the states. The anti-commandeering doctrine simply represents the recognition of this limit on congressional authority."
Monday's decision will likely lead to legalized sports betting — but its state sovereignty-based argument could have much broader implications, affecting such other state issues as marijuana legislation, gun control and immigration.
It could also have an effect on the Trump administration's crackdown on sanctuary cities and states, in which state and local governments have directed law enforcement not to cooperate with federal immigration authorities — an act of autonomy that could potentially be upheld under the anti-commandeering doctrine.
The Trump administration is currently challenging these sanctuary policies, and has sued the state of California over its statewide sanctuary policies. "SCOTUS Blog" noted that recent legal challenges to the federal government's attempts to curb sanctuary policies have cited the 10th Amendment, which was used to justify Monday's ruling.
"At the end of the day, I earnestly believe the Supreme Court decision will have a greater impact in determining what behavior by the federal government constitutes commandeering than it will have on the ultimate legality of sports betting," Marc Edelman, a law professor at Baruch College's Zicklin School of Business, told USA Today in December 2017, when the case was argued before the Supreme Court.