Who's Sorry This Week? Rita Ora, Cardi B, the US Air Force and other public apologies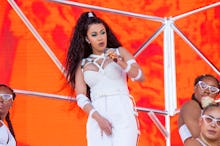 Another week, another deluge of apologies.
In Who's Sorry This Week?, Mic tracks down the most prominent mea culpas from celebrities, companies and other public entities trying to make amends for their various screw-ups.
This week had no shortage of apologies, so let's get right to it.
Rita Ora and Cardi B are sorry for offending queer women with the bisexual anthem "Girls"
On May 11, British pop singer Rita Ora dropped "Girls," a pop anthem about girl-on-girl action featuring Bebe Rexha, Charli XCX and Cardi B. It's a perfectly fine, breezy summer pop song, but its lyrical content raised more than a few eyebrows. Specifically, critics — including singer Hayley Kiyoko, who is out as gay — said the song reinforced the notion that women have to be intoxicated in order to show affection for one another. That criticism stems mostly from a lyric which implies Ora wants to kiss women when she's had a few glasses of red wine.
"Every so often there come certain songs with messaging that is just downright tone-deaf, which does more harm than good for the LGBTQ+ community," Kiyoko wrote in a text post on Instagram. "A song like ["Girls"] just fuels the male gaze while marginalizing the idea of women loving women."
The other side of this argument, made by Rita Ora herself (who is out as bisexual), is that she has no obligation to write a song that is representative of the experiences of every woman who is attracted to women. The song, she said, is merely representative of her own experiences. Is that not enough?
Regardless, on Monday, Ora posted an apology on Twitter.
"I am sorry [if] how I expressed myself in my song has hurt anyone," she wrote. "I would never intentionally cause harm to other LGBTQ+ people or anyone. Looking forward, I hope that continuing to express myself through my art will empower my fans to feel as proud of themselves as I'm learning to feel about who I am."
Cardi B also posted an apology on Twitter, saying, "We never try to cause harm or had bad intensions with the song .I personally myself had experiences with other woman ,shiieeett with a lot of woman ! I though[t] the song was a good song and i remember my experience ."
In an interview with People, Bebe Rexha said she understood the backlash against some of the song's lyrics, but accused critics of being too militant in how other people describe their same-sex attractions.
"I've kissed girls, you know what I mean?" Rexha said. "And I don't do it because it's fun or whatever. Do you have to be fully lesbian to put out a song about kissing girls? What if you're bi? Isn't the point of being supportive of the LGBTQ community that you can love whoever you want and everything is fluid and non-judgmental?"
Charli XCX does not appear to have publicly commented yet. Her Twitter account, however, has "liked" Rita's Twitter apology.
The U.S. Air Force is sorry for comparing a military strike to the "Yanny vs. Laurel" meme
Tuesday, an audio equivalent of the much-debated white-and-gold — or maybe it's blue and black? — dress meme struck the internet. When some people listen to the following audio clip, they hear the word "yanny," but others hear "laurel." It's a fun little audio illusion that instantly caused the internet to split into factions over what word they were hearing.
It didn't take long before social media managers 'round the world decided to get in on the fun, to widely varying degrees of success. On the far, far, far low end was the U.S. Air Force, which posted a tweet saying, "The Taliban Forces in #Afghanistan would much rather have heard #Yanny or #Laurel than the deafening #BRRT they got courtesy of our #A10."
The link in the tweet led to an article about an Air Force-backed military operation in which 30 Afghan people — five of whom were civilians — died in a clash with the Taliban.
During a briefing Thursday, a reporter asked whether spokesperson Dana White thought the tweet was appropriate. According to ABC News, White said she had not seen the tweet, but would investigate. Shortly thereafter, the original tweet was deleted, and an apology took its place.
John Kricfalusi, creator of Ren & Stimpy, is sorry for sexually pursuing underage girls in the '90s
In March, BuzzFeed reported that John Kricfalusi, who created the cult-hit animated series Ren & Stimpy, pursued sexual relationships with underaged girls in the '90s. The now-62-year-old man admitted to the allegations of misconduct brought forward by Robyn Byrd and Katie Rice, both of whom separately accused him of sexual misconduct. In a statement to BuzzFeed, Kricfalusi's lawyer blamed his behavior on mental health issues.
On May 11, Kricfalusi posted a lengthy, multi-paged Facebook apology to both Byrd and Rice, saying he was "very close with" them, but "stupidly managed to spoil everything." The pages of Kricfalusi's post contain scans of sketches and photographs he exchanged with Byrd and Rice when they were children, accompanied by text in which Kricfalusi reminisces about the positive memories he has of their time together.
Despite apologizing, Kricfalusi also doubled down on the claim that his behavior was rooted in "bipolar disorder and ADHD, a combination that makes it almost impossible to control your impulses and obsessions."
Starbucks is sorry a barista allegedly wrote a racist slur on a customer's cup
When you order a drink at Starbucks, the barista taking your order will write your name on your cup, so you can be sure the drink you pick up at the end of the counter is meant for you. But Wednesday, a Los Angeles CBS affiliate reported that when a Latino man named Peter picked up his coffee order, the cup said "BEANER."
Starbucks released a statement to CBS, saying it had apologized to Peter and was working to "make things right."
"This is not indicative of the type of experience we want our customers to have when they walk into our stores," the statement said. "We have apologized to the customer directly and are working to make things right."
This allegation occurred just a few weeks after a viral video posted online showed Philadelphia police offers arresting two black men in a Starbucks who were waiting to meet up with a friend. The incident spurred apologies from both Starbucks and the Philadelphia Police Department, ultimately resulting in an initiative wherein Starbucks will close thousands of its stores across the country on May 29 to host employee trainings in racial discrimination.