Trump says his surprise call to save Chinese jobs is part of trade deal negotiations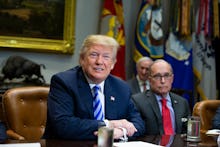 President Donald Trump posted a shocking tweet Sunday that said he was working to end U.S.-imposed sanctions on the Chinese cellphone-making company ZTE because the sanctions were killing "too many jobs in China."
"President Xi of China and I are working together to give massive Chinese phone company ZTE a way to get back into business fast. Too many jobs in China lost," Trump tweeted.
The tweet surprised many in Washington, D.C., as lawmakers — including some Republicans — questioned why Trump would want to help a company that poses a threat to national security. Members of Congress and the U.S. intelligence community said in February that ZTE products could be used to steal U.S. intellectual property for Chinese espionage.
"Problem with ZTE isn't jobs & trade, it's national security & espionage," Sen. Marco Rubio (R-Fla.) tweeted Monday. "Any telecomm firm in #China can be forced to act as tool of Chinese espionage without any court order or any other review process. We are crazy to allow them to operate in U.S. without tighter restrictions."
Other Republicans, including Senate Majority Whip John Cornyn (R-Texas), echoed Rubio's point.
In April, Trump's own Commerce Department banned ZTE from purchasing U.S. goods and services for seven years after the company was caught shipping materials to North Korea and Iran. ZTE, which awarded bonuses to employees involved in those illegal acts, was also found to have made false statements to the U.S. about the matter.
Trump later sought to clarify his announcement, tweeting Monday that working out a deal with ZTE was actually part of trade negotiations between U.S. and China.
"ZTE, the large Chinese phone company, buys a big percentage of individual parts from U.S. companies," Trump said on Twitter. "This is also reflective of the larger trade deal we are negotiating with China and my personal relationship with President Xi."
Trump's second tweet, which suggested he was trying to avoid a trade war with China, ratcheted up the ongoing rhetoric that made a trade war look all but certain a few weeks ago.
A Chinese delegation is set to meet with U.S. officials this week to continue discussions on how to avoid a trade war, according to Bloomberg.
Republicans fear a trade war would hurt some of the very same voters that propelled Trump to the White House in the first place, including workers in the agricultural industry.