What to watch in Tuesday's primaries in Idaho, Pennsylvania and Nebraska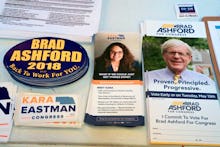 Welcome to Mic's daily read on Donald Trump's America. Want to receive this as a daily email in your inbox? Subscribe here.
Good morning from Emily Singer at Mic.
Here's what's happening in Trump's America:
• Melania Trump remains at Walter Reed National Military Medical Center after undergoing an embolization procedure for a benign kidney issue. Trump visited the first lady Monday night after the procedure.
About last night: Trump decries leaks, this time from within his own house
The bad press over a White House aide's cruel joke about Sen. John McCain went on another day after the White House again refused to apologize to the Arizona Republican who is battling brain cancer.
Instead of apologizing for the joke — in which communications aide Kelly Sadler said McCain's opposition to Trump's CIA nominee didn't matter because McCain is "dying anyway" — the White House decried the fact the joke leaked.
"When you work in any work environment — you with your colleagues at NBC or elsewhere — if ... you aren't able, in internal meetings, to speak your mind or convey thoughts or say anything that you feel without feeling like your colleagues will betray you, that creates a very difficult work environment," principal deputy press secretary Raj Shah said at Monday's news briefing. "I think anybody who works anywhere can recognize that."
That message decrying leaks seemed to come directly from Trump himself, who tweeted Monday afternoon about the leak.
"The so-called leaks coming out of the White House are a massive over exaggeration put out by the Fake News Media in order to make us look as bad as possible," Trump tweeted Monday as he prepared to take a helicopter to the hospital where the first lady was recovering from a kidney procedure. "With that being said, leakers are traitors and cowards, and we will find out who they are!"
Trump's tweet has a number of issues, however. First, the White House never denied that Sadler made the joke, so calling it a "massive over exaggeration" is dishonest. Even more, the fact the leak came from his own communications staff means Trump called his own aides "traitors and cowards."
Sounds like the work environment at the White House might be a little tense.
Today in Trump's America: Another big primary day
We've hit the part of the midterm election cycle where major primaries will be held almost every Tuesday for the duration of the summer. On Tuesday, the biggest contests are taking place in Pennsylvania, where a slew of candidates are vying to be their party's nominees in redrawn congressional districts.
Pennsylvania's 1st District Democratic primary will be one to watch, as the winner of that contest will face off with GOP Rep. Brian Fitzpatrick in a seat that became more Democratic in the redraw. The two top contenders are former Navy prosecutor Rachel Reddick and wealthy philanthropist Scott Wallace. Reddick has attacked Wallace for being an out-of-touch millionaire, while Wallace has attacked Reddick for being a former Republican.
A handful of other Democratic primaries will test how strong the so-called "year of the woman" will be, as many of the primaries in Democratic-leaning seats feature strong female candidates running against men.
Similarly, Rick Saccone — the Republican who lost to Democratic Rep. Conor Lamb in a special election earlier this year — is running in a newly drawn and safe Republican seat. Saccone faces a primary, and it will be interesting to see if he wins after losing the special election in a district Republicans carried for years. According to Politico, former Rep. Tim Murphy — whose resignation led to the special election that Saccone lost — has been working behind the scenes to defeat Saccone in Tuesday's primary.
Also worth watching is a primary in Nebraska's 2nd District, where former Rep. Brad Ashford, a Democrat, is running to win back the district he lost in 2016. Ashford faces a primary from a progressive woman challenger.
And in Idaho, primaries on both sides of the aisle in the state's open gubernatorial contest are worth watching. On the Republican side, tea party Rep. Raúl Labrador is facing off with two other Republicans. Republican congressmen have not fared well in primaries for higher office (see last week's primary results in Indiana and West Virginia), so it's worth watching if Labrador can pull out a win.
On the Democratic side, Paulette Jordan is running in Idaho to be the first Native American governor in U.S. history. She faces A.J. Balukoff, a Democrat who lost to outgoing GOP Gov. Butch Otter in 2014.
Capitol Hill happenings: Trump heads to the Hill
Trump travels to Capitol Hill Tuesday to meet with Republican senators. He will push them to enact some of his key policies, including the confirmation of his nominees.
"He will be discussing the administration's agenda," Shah said at Monday's press briefing. "I think a focus of that will be on appointees and getting the president's team in place, particularly Gina Haspel, who we believe should be confirmed as the next CIA director."
Shah, however, wouldn't say whether Trump is prepared to face questions from Republican senators about the McCain joke. McCain is respected by Republican senators on the Hill, who are aghast at how the White House is treating McCain, according to Politico.
"Just out of common decency they should apologize. And the person who said it should apologize," Sen. Rob Portman (R-Ohio) told Politico. "It's wrong."
And the rest…
Gaza violence: The death toll in Gaza stands at 60 after protests broke out over the U.S. opening a new embassy in Jerusalem. The protesters were killed by Israeli snipers, but the White House blamed the deaths on Hamas. "We're aware of the reports of continued violence in Gaza today," Shah said at Monday's press briefing. "The responsibility for these tragic deaths rests squarely with Hamas."
Mike Pence: The vice president is carving out a role for himself in the upcoming midterm elections, and it's rankling Trump aides, according to the New York Times.