Rep. Lou Barletta wins the Republican primary for Pennsylvania's Senate race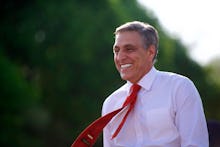 Republican Rep. Lou Barletta has won the primary race to challenge incumbent Democratic Sen. Bob Casey in Pennsylvania's 2018 Senate race.
Barletta managed to beat out state Rep. Jim Christiana who ran as a Washington outsider. The Associated Press called the race for Barletta at 9:45 p.m. Eastern, with Barletta leading Christiana by 18 percentage points.
Barletta was the early favorite to win the Senate primary but the race was by no means a sure thing. Several other Republican members of Congress have have decided not to seek reelection in the House in order to run for Senate only to end up losing in their Senate primaries to outside challengers.
In Indiana's GOP Senate primary, two sitting members of Indiana's congressional delegation, Republican Reps. Todd Rokita and Luke Messer, both decided not to seek reelection in the House to run in their state's Senate primary. Both ended up losing out to outsider businessman and state Rep. Mike Braun.
In West Virginia, Republican Rep. Evan Jenkins decided to not seek reelection in order to run for Senate as well. While Jenkins managed to finish ahead of notorious coal baron Don Blankenship, he lost the nomination, finishing second to Republican state Attorney General Patrick Morrisey.
Barletta will face an uphill battle attempting to unseat Casey in the general election. Though President Donald Trump narrowly carried the state of Pennsylvania by less than a percentage point in 2016, Casey already has a considerable polling advantage against Barletta, and elections experts believe he is likely to win in the fall. He's been Pennsylvania's senator for the past 11 years.