3 tales from the premiere of 'BlacKkKlansman,' Spike Lee's new anti-Trump film that lit up Cannes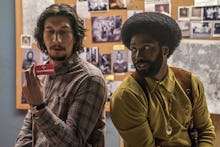 At an otherwise "slow" Cannes Film Festival in France, director Spike Lee's newest film, BlacKkKlansman, has become the talk of the town.
The film tells the true 1979 story — a heightened, comedic, Blaxploitation-inspired version, anyway — of an African-American detective (played by John David Washington) who infiltrated his local branch of the Ku Klux Klan by literally phoning into meetings. When he's eventually invited to attend meetings in person, he sends his Jewish partner (played by Adam Driver) in his stead. The role of David Duke, former leader of the KKK, is played by Topher Grace.
According to several early impressions from reviewers, the film is Lee's best work in years, due in no small part to the material's newfound relevance in 2018 — a through-line Lee called out quite explicitly in a speech at Cannes and in BlacKkKlansman itself.
Here are three tales from BlacKkKlansman's Cannes debut that have people talking.
BlacKkKlansman's screening concluded with a six-minute standing ovation
According to Variety, the Monday premiere of BlacKkKlansman concluded with a six-minute standing ovation from its audience, becoming one of the festival's only "breakout discoveries" thus far.
The night was something of a redemption for Lee, who many suspect will be in the running for the Palme d'Or, the highest prize awarded at Cannes. In 1989, according to the Hollywood Reporter, Lee's film Do the Right Thing premiered to rave reviews, but won nothing. In May, Lee said he was "robbed" that year. Lee brought a bit of Do the Right Thing with him to this year's Cannes, sporting rings from the film featuring the words "love" and "hate."
It remains to be seen whether the jury at Cannes — led by actress Cate Blanchett — will recognize BlacKkKlansman or relegate it to the same fate of Lee's '89 masterpiece.
The film ends with footage of the white supremacist rally in Charlottesville
Though BlacKkKlansman is, on the surface, a film inspired by true events and firmly set in 1979, it's so much more than that. According to Vanity Fair film critic Richard Lawson, the film is also an "indictment of complacency ... [and] of white liberals who'd rather not confront" the ongoing prevalence of white supremacist beliefs in 2018.
Lee makes that subtext just plain ol' text at the end of BlacKkKlansman, which ends with footage from the white supremacist-led rallies in Charlottesville, Virginia, including a shot of the car that ran over and killed counterprotester Heather Heyer.
The Charlottesville rallies are "an ugly, ugly, ugly blemish on the United States of America," Lee said at a press conference Tuesday, according to Vulture. "Heather should be alive now. It's a murderous act."
Spike Lee gave a heartfelt speech about the film and Trump's role in the rise of white supremacy
At a press conference on Tuesday morning, Lee discussed the film's premiere from the night before. The 61-year-old filmmaker spoke at length about why it was important to use real-life footage from the Charlottesville rallies at the end of the new feature.
In particular, Lee found President Donald Trump's tepid response to such public displays of white supremacy "a defining moment."
"We have a guy in the White House — I'm not gonna say his fucking name — who defined that moment not just for Americans but the world, and that motherfucker was given the chance to say we are about love, not hate," Lee said, per Vulture. "And that motherfucker did not denounce the motherfucking Klan, the alt-right, and those Nazis motherfuckers. It was a defining moment, and he could have said to the world, not just the United States, that we were better than that."
Here's the full transcript of Lee's remarks, per Vulture:
Right away, I knew that this had to be the coda for the film, but I had to do something first. I was given Susan Bro's phone number. She is the mother of Heather Heyer, who got murdered when that car came crashing down the street. I was not gonna put that murder scene in the film without her blessing. Mrs. Bro said, 'Spike, I give you permission to put that in.' Once I got permission, I said, 'Fuck everybody else, that motherfucking scene is staying in the motherfucking movie.' Cuz that was a murder.
BlacKkKlansman is set to release in theaters on Aug. 10, tied to the approximate one-year anniversary of the Charlottesville protests.