The DOE is scaling back its oversight of for-profit colleges — here's how to protect yourself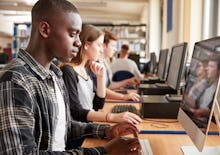 The rise of large for-profit colleges has left a growing group of distressed borrowers in its wake. The crisis arguably peaked in 2015, when a conglomerate called Corinthian abruptly shut down, unenrolling 16,000 students regardless of the status of their degree. They and other shady operators flocked to a pretty simple con: Find students, any students, willing to take out federal student loans, enroll them in a program on hyped-up claims about the degree and cash the Department of Education checks.
Students at for-profits disproportionately come from lower-income backgrounds and are more likely to be the first person in their family to seek out higher education, according to a 2015 report written by a former Department of Treasury official. These borrowers were already more vulnerable in the first place, and the new debt made them even more so, helping drive up the number of distressed borrowers even as the underlying economy gained steam. The number of borrowers who are nine months behind on payments or more (also known as the default rate) could hit 40% by 2023, according to Brookings Institution. Those who default are likely to have an extremely low credit score and are at risk for having future pay garnished.
Despite the alarming figures — borrowers in default can have their pay checks and even their social security checks docked — the Department of Education is scaling back the unit tasked with overseeing for-profit colleges and their misleading claims, according to a New York Times report. David Bergeron, former acting assistant secretary for postsecondary education at the DOE, told Mic that the scale back is "disturbing."
"The evidence that for-profit institutions were abusing students was so clear," Bergeron said. "Scaling [the unit] back is disturbing because the abuses haven't gone away. ... The only way you can ensure [for-profits aren't misleading borrowers] is to have cops on the beat, making sure they're complying with all the legal requirements."
One for-profit program claimed to enroll people formerly convicted of felonies into criminal justice programs so they could become police officers. An Illinois attorney general investigation revealed that a criminal justice program (which cost as much as $75,000 for three years) placed less than 4% of its graduates in jobs as sworn police officers or corrections officers.
How to protect yourself from a for-profit school
If you were misled by a school that was subsequently shut down by regulators, you should still be eligible for some help: According to the Times' report, what remains of the team that the DOE set up to investigate for-profit colleges will now focus on processing loan forgiveness applications, for example through the school-closure loan discharge program.
But the smaller team size and the fact that the unit is now headed by Julian Schmoke, a former for-profit university dean, are concerning to consumer advocates. In an ideal world, Bergeron said, Schmoke would be an especially effective regulator given his knowledge of the for-profit industry's worse actors. But the administration's track record on consumer protection left Bergeron with concerns, he said.
"If [Schmoke] wanted to, he could go out and find bodies," Bergeron said. "That's what I would hope and expect he would do as a civil servant, a public servant. That's what his job is. But the DeVos administration is walking away from the things that had been put in place to protect students. So I'm concerned."
It will now be more incumbent on borrowers to make sure they're not applying for a potentially fraudulent program. If you're thinking of applying to a school that's making big promises, check with a local accreditor (you can find a list of nationally recognized organizations here) as well as the local attorney general to see if any actions or investigations are open.
Finally, consider low-cost community colleges as an alternative to four-year colleges or costly degree programs. Getting a good return on investment off of your education is less about how much you paid or how much you earn, but how much you paid to earn what you earn. Schools that boast a high ratio of starting salaries to debt aren't as alluring as schools boasting about their lazy rivers and fancy athletic facilities, but you'll graduate in a much better place financially.
Sign up for The Payoff — your weekly crash course on how to live your best financial life.