California Democrats look to stave off disaster in slew of House primaries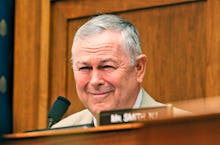 President Donald Trump has set off a wave of Democratic enthusiasm as we head into the primaries ahead of the 2018 midterms, giving his opponents hope of Democrats winning back the House majority that the party lost in 2010.
Yet in California, the surge of energy is actually proving to be a curse for the party, as Democrats risk being shut out of key House contests thanks to a glut of candidates and the state's wonky primary system.
In California, the two highest vote recipients, regardless of party, advance to the general election. With so many candidates running, Democrats risk splintering the vote so much that Republicans could win and shut Democrats out of the November contest. Taking these seats off the map before the general election even begins would be a blow to Democrats nationwide, who must pick up 23 seats in November in order to win a majority.
To avoid that, Democratic groups are beginning to run ads knocking down GOP candidates in three competitive House districts in the hopes of diminishing their support and avoiding a disastrous shut out.
On Tuesday, Priorities USA and House Majority PAC — two Democratic super PACs that are working to elect Democrats to Congress in 2018 — released three ads against GOP candidates in three House districts Hillary Clinton carried in 2016: California's 39th, 48th and 49th districts.
"As Democrats work to retake the House this November, we need to make sure that we're maximizing our opportunities to win, which, in California, means ensuring at least one Democrat makes it onto the general election ballot," Patrick McHugh, executive director of Priorities USA, said in a statement.
The ads will run on Facebook, YouTube and Google, as well as on Fox News' website — a key indicator the ads are being targeted to GOP voters. The buy mirrors those from the Democratic Congressional Campaign Committee, which according to National Journal reporter Ally Mutnick purchased hundreds of thousands of dollars in ads in those same three districts targeted to Republican voters.
Here's a look at each of the three races and why they could be problematic for Democrats.
California's 39th District
This Orange County-based House seat is open this cycle thanks to GOP Rep. Ed Royce's retirement. The district swung heavily toward Democrats in the 2016 presidential election, when Clinton carried the seat by a 9-point margin. This was a massive swing from 2012, when GOP nominee Mitt Romney won the seat by a 4-point spread.
The DCCC endorsed Gil Cisneros, a veteran and philanthropist who won a $266 million lottery in 2010. The primary has gotten nasty, with Cisneros trading barbs with health insurance executive Andy Thorburn.
An internal poll from Cisneros' campaign from the end of April — one of the few public polls in the race — showed Cisneros in the lead, with three Republican candidates and Thorburn trailing right behind.
Meanwhile, House Majority PAC and Priorities USA Action released an ad attacking former state Senate Minority Leader Bob Huff, one of the Republican contenders, with a message about his tax votes geared toward a GOP electorate.
"Bob Huff talks all about lowering taxes, but he supported higher sales taxes, higher income taxes and higher costs for southern California drivers," a narrator says in the spot. "Bob Huff sold us out in Sacramento — he'd do the same in Washington."
If at least one Democrat and one Republican makes it through the primary, the race would be rated a toss-up, according to Inside Elections.
California's 48th District
This Orange County-based seat is yet another top Democratic pick-up opportunity in November.
Rep. Dana Rohrabacher (R-Calif.) is one of the most vulnerable House Republicans, for several reasons. First, his district shifted majorly towards Democrats in 2016: Clinton won it by 2 points, while Romney had carried it by a 12-point margin in 2012.
Rohrbacher also has close ties to Russian President Vladimir Putin — a liability in an election with Robert Mueller's investigation into Russia meddling in the 2016 election hanging over it.
Polls show Rohrabacher has a primary lead, but the race for second place is crowded, with former state Assemblyman Scott Baugh holding second place, according to an internal poll from Democratic candidate Hans Keirstead's campaign.
House Majority PAC and Priorities USA will run ads against Baugh, in an attempt to keep him from winning the second-place spot. The ads "will focus on Scott Baugh's history of run-ins with the law, which has resulted in Baugh being indicted on multiple felony charges and paying nearly $50,000 in civil penalties," according to a release from the two Democratic groups.
One Democrat in the race, Laura Oatman, dropped out in March and endorsed Harley Rouda, in an effort to try to consolidate Democrats in the contest. Oatman's name will remain on the ballot, however, since she dropped out after the filing deadline. The DCCC has also endorsed Rouda, a businessman and attorney, to try to avoid being shut out of the general election.
If a Democrat makes it through the primary to face Rohrabacher, the race is rated tilt-Republican by Inside Elections.
California's 49th District
This San Diego-area House seat is one of Democrats' best pick-up opportunities in the fall. The seat has shifted dramatically towards Democrats in recent years, with Clinton carrying it by an 8-point spread in 2016, a major improvement from the 7-point victory Romney had there in 2012.
Rep. Darrell Issa (R-Calif.) announced he's retiring from the seat, after he barely won re-election in the district in 2016. Yet a crowded Democratic field is also threatening to shut Democrats out of the race.
An internal poll from Democratic candidate Sara Jacobs' campaign found two Republicans leading, with three Democratic candidates close behind. The third-place Democrat in the poll, Doug Applegate, ran in 2016 and lost to Issa by roughly 1,600 votes.
House Majority PAC and Priorities USA are attacking Republican state Assemblyman Rocky Chavez to try to keep him from making the general election. The ads the groups run against him will "hold Rocky Chavez accountable for getting rich on California taxpayers' dime," according to a release from both groups.
The DCCC is also running an ad in the district against Chavez and his tax reform record.
If at least one Democrat and one Republican make it through the primary, the race is rated a toss-up by Inside Elections.