Kristen Stewart is leading the charge of dismantling "no flats" at Cannes, but there's a precedent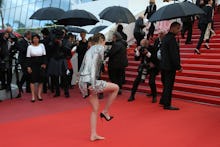 At the Cannes Film Festival, flat shoes are an unusually hot topic. Though there is no explicit mention in the Cannes dress code stipulating a particular choice of footwear, according to Vogue, women have notoriously been kicked out of a premiere for wearing something as common as fancy flat sandals, with heels being highly preferred for women at Cannes.
In an age where #MeToo, #TimesUp and gender equality are all open conversations within the film industry, this policy isn't holding up so well.
Case in point: Monday, when Kristen Stewart, a longtime and outspoken opponent of the heels rule, made her agitation further known. One second, walking on the red carpet for the premiere of BlacKkKlansman, she was wearing a sparkly Chanel minidress with sky-high black Louboutin stilettos (the kind favored by Melania Trump, wouldn't you know).
The next second, they were off, with Stewart clearly slipping off the heels in favor of walking the red carpet sans any footwear at all.
Stewart has worn flat sneakers to Cannes events repeatedly in the past, including several times in 2016, but this was the first instance when she made the act of taking her high heels off so public. Perhaps she was uncomfortable beyond belief, and couldn't stand her heels for one more moment, or maybe she actually was doing this in the name of making a point about this policy.
"Things have to change immediately," Stewart told Vanity Fair in 2016. "It has become really obvious that if [a man and I] were walking the red carpet together and someone stopped me and said, 'Excuse me, young lady, you're not wearing heels. You cannot come in.' Then [I'm going to say], 'Neither is my friend. Does he have to wear heels?' It can work both ways. It's just like you simply cannot ask me to do something that you are not asking him. I get the black-tie thing but you should be able to do either version — flats or heels."
Stewart isn't the only woman to publicly challenge this shoe rule at this particular Cannes, either. On Thursday, Marion Cotillard attended the photo call for her film 355 in flat boots.
Her female costars, including Jessica Chastain, Penelope Cruz and Lupita Nyong'o, all wore the expected heels.
As far as walking the red carpet barefoot, that's actually been done before as well. For the 2016 Cannes premiere of her film Money Monster, Julia Roberts walked the carpet completely barefoot.
Roberts hasn't been nearly as outspoken about the heels rule as Stewart, so who knows if she was trying to make a political statement at all, but it did come one year after women were turned away from a Carol screening at the 2015 Cannes Film Festival.
Before those women, there were others. Uma Thurman walked in flat sandals at the 2011 Cannes Film Festival.
French actress Aymeline Valade wore full-on menswear, complete with patent leather dress shoes, in 2014.
There have been women rebelling against this "no flats" Cannes red carpet rule for years, but now it feels all the more pressing.
If the film industry is serious about equality, and particularly the improved treatment of women, what does the continued existence of a sexist red carpet fashion rule say in 2018? To us, it says there's plenty more work to be done, and the women know that better than anyone.