Tinder wants to keep a log of users' every move in the name of love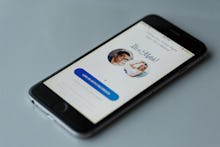 Tinder has always used users' location to show them potential dating options in a certain mile radius. Now the app wants to connect users with people who share their interests by tracking and logging everywhere they go.
According to screenshots obtained by the Verge, Tinder's new Places feature will allow the app to catalog places users visit. Along with taking note of users' travels, the app will then show users people who visit the same places. The company presumes that users have something in common with folks who frequent the same places they do.
Tinder will not, however, show other users where you are in real time. Swipers can see, for example, which bar someone was at earlier, but they can't see where they are at the moment.
Furthermore, the Places option will delete location data older than 28 days, but Tinder will hold onto all of this information behind the scenes. According to the FAQ, "Tinder will use the history of all of the places you've visited to show you better matches and continuously improve the feature." Whether or not Tinder will share your location habits with its unnamed third-party partners, like advertisers, remains to be seen.
We've reached out to Tinder for comment on user location being shared with third-party companies and will update this post with more info.
Tinder is likely feeling the heat of incoming competition from Facebook, whose dating feature also uses places people visit. While Facebook tracks location for other reasons, its dating section does not. Instead of using your phone's GPS chip, Facebook will use its Events platform to show which users are interested in, or will potentially be at, an upcoming event. Facebook users can check this attendee list to select who they'd like to chat up.
Other Tinder competitors like Bumble also keep tabs on current location to show you who, within a specified radius, is also swiping for love.
"Problems could gather if the [location] data was kept for years"
Tinder's choice to hide its users' travel habits after four weeks as well as letting users remove from the log places they've visited offers some semblance of privacy. Though Tinder keeping the location log for an undetermined amount of time is worrisome. According to Tinder's privacy policy, the company currently shares geolocation data in a "de-identified form" with outside companies it partners with — the same could eventually be true when Places launches. More troubling is the potential to be hacked.
"Problems could gather if the data was kept for years," Pam Dixon, executive director of World Privacy Forum, said in a message. "A data breach containing our locations over time would be devastating."
It's not just Tinder. Google keeps a record of your Google Maps activity via what the company calls Timeline. The "delete timeline data" option erases the data so that users "won't be able to see it again," according to Google, but doesn't specify whether location is deleted off of Google's servers as well.
Tinder's location log could be too tempting for malicious hackers to resist. The answer, according to Dixon, is to have the feature delete the data by design. "I would love to see this feature self-delete data after 24 hours. This would minimize any data breach problems." While Tinder hides this information after 28 days, eliminating the data from its cloud as well, in an even shorter period of time, could further protect its users. Data hacks aside, Dixon projects that Tinder may see a surge in law enforcement requests once word gets out that it's logging users' whereabouts.
More important than offering this feature as an option is for Tinder to explain to users, in plain English, how the new data they give Tinder will be used. We've seen tech companies use vague wording or even legal speak to cover up just how much data they take. Facebook's Messenger, for example, offered to be Android users' default texting app without making it clear that all their texts would be uploaded to Facebook servers.
"The default settings on Tinder's feature need to be exceptionally clear and it should strictly be opt-in," Dixon said. "Any wiggly language that subtly encourages people to use this feature should be eliminated."