Native American woman wins Democratic primary for Idaho governor's race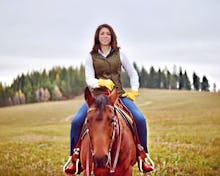 Paulette Jordan, a state senator and member of the Coeur d'Alene tribe, has won the Democratic nomination for governor of Idaho.
The New York Times called the race for Jordan just before 1 a.m. Eastern, with Jordan leading her Democratic opponent by around 20 percentage points.
The 38-year-old Jordan was the progressive favorite in the race, while Idaho's Democratic establishment lined up behind businessman A.J. Balukoff, who ran for governor unsuccessfully in 2014. Balukoff, a moderate who contributed to Mitt Romney's 2008 and 2012 campaigns, ran as a pro-business candidate, while Jordan focused on populist issues, calling out state Republicans for their ties to big business interests.
If she manages to win the general election in November, Jordan would be the country's first ever governor from a Native American tribe (Hawaii has had elected governors of native Hawaiian descent).
Jordan faces a steep uphill battle in deeply conservative state which voted for Trump in 2016 by more than 30 percentage points.
But progressive activists in the state are hoping to boost Democratic turnout by putting Medicaid expansion on the ballot. That move could help boost Jordan's chances of a red state upset in 2018.