With its June issue, 'Allure' has more than doubled the number of Asian cover models in its history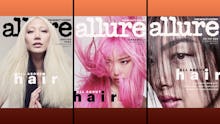 Before its June issue, Allure magazine had only had two Asian cover models: Lucy Liu in 2000 and Olivia Munn, who's part Chinese, in 2014. Now after its June 2018 issue, which features three Asian models — Soo Joo Park, Fei Fei Sun and Fernanda Ly — as the cover stars, Allure has more than doubled the number of Asian cover models across its 28-year history and 327 covers.
In a Twitter thread and an editor's note published online Tuesday, Allure editor-in-chief Michelle Lee, who is Asian herself, wrote on about why this matters.
"We've made a real effort to celebrate diversity on all platforms of Allure in the past two years," Lee wrote. "But, my God, only two covers? Especially as an Asian woman, this is sad — and frankly embarrassing..."
"Initially, the first wave of diversity in media was heralded for letting underrepresented people finally see themselves reflected back in images," Lee added. "And that's important. But I've come to see representation as something even deeper now. We showcase and celebrate different versions of beauty so we can — finally, wonderfully — see one another."
Allure's covers reflect an increasingly diverse magazine cover landscape, with models of color getting hired for more and more fashion and beauty magazine covers specifically. But for Lee, and the models included, it's particularly important that Asian models are utilized on these covers, for the sake of representation.
"Asian and Asian-American heritage is really heavily underrepresented in the industry, and I want to push for inclusion," Park told Allure. "We're the fastest-growing minority in the country, but you hardly ever see one of us on the cover of a major American publication. I just want to think about who I am and what I represent and how I can help other people who are like me."
Lee has vowed to continue to boost diverse faces in the pages of Allure and not, as she says, "just wait until Lucy Liu's next movie."