Political fundraising site suspends GOP accounts after backlash over pro-Trump co-founder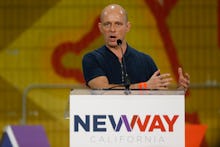 The grassroots fundraising site Crowdpac announced on Monday that it will be temporarily suspending all Republican accounts on its website over the next 10 days following backlash over its pro-Trump co-founder and CEO, Fox News commentator Steve Hilton. Crowdpac will then assess the extent to which those campaigns "align with the values of our community in a way that Trumpism does not."
In addition to suspending Republican accounts, Hilton will also step down from his role as CEO.
In a statement published on Medium on Monday, Crowdpac acting CEO Jesse Thomas said that the community of donors on Crowdpac has "rejected Trumpism" and that the site would follow their lead.
"Because Trumpism is so heavily linked with the modern national Republican Party, and because very few federal leaders in the Republican Party have meaningfully rejected Trumpism, we are temporarily suspending fundraising for Republican candidates on Crowdpac.com," the statement read.
In March, Mic first reported on backlash from progressives over the site's relationship to Hilton, a prominent Trump supporter who hosts a weekly news show on Fox News called The Next Revolution With Steve Hilton.
Though the site is a nonpartisan grassroots fundraising platform, a spokesperson for Crowdpac said in an interview with Mic at the time that the campaigns raising money on the site tended to "skew progressive."
After Hilton's role in the company became more widely known, progressives began calling on Democratic candidates to close their fundraising campaigns on the platform.
"The irony isn't lost on us that our first CEO, Steve Hilton — a conservative political strategist — helped start a platform that has become an element of the anti-Trump 'resistance' movement," the company wrote in its statement on Monday.
"As a company started by founders of diverse ideologies, however, we understand that such political ironies are common. We have veterans of the Romney, Obama and Clinton campaigns on the team. We have seen a lot, and we are united by our mission of bringing more people into the political process," the statement continued. "Unfortunately, Steve's profile as a political pundit on right-wing cable news has created a tension within our platform and community."
The position will eventually be held by the site's other co-founder and current COO Gisel Kordestani. Kordestani has previously been on the board of directors for the humanitarian organization Mercy Corps, and held various roles at Google.
Correction: May 15, 2018