Bernie Sanders emerges as Washington's leading voice against Gaza violence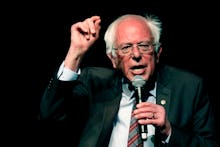 Most members of the U.S. Senate have had little to say about the Israel Defense Forces' violent response to protests in Gaza that left more than 50 Palestinians dead. But there has been one notable exception.
Independent Vermont Sen. Bernie Sanders has stood out for his forceful condemnation of the Israeli government's actions and the U.S. response.
The progressive firebrand's public remarks are the latest in a series of condemnations against Palestinian deaths at the hands of the Israel Defense Forces, as Palestinian protesters have been participating in a series of protests at the Israel-Gaza border since March.
So far only a handful of Democratic representatives in the House have joined Sanders in strongly condemning the violence. In the Senate, the response has been characterized by either silence or unlikely praise for the Trump administration.
Senate Minority Leader Chuck Schumer issued a statement on Monday. Schumer applauded Trump for his decision to move the U.S. embassy in Israel from Tel Aviv to Jerusalem, a move that played a major role in sparking the protests.
Sanders' response might appear in keeping with the socialist senator's record of taking positions far to the left of his Democratic colleagues. But his recent emphasis on and attention to the issue marks a major turn from his position as a candidate for the Democratic presidential nomination in 2016.
In April of that year Sanders' campaign hired Simone Zimmerman, a founding member of the Jewish anti-occupation group IfNotNow to be his campaign's Jewish outreach coordinator. But shortly after that decision, the campaign fired Zimmerman when it was revealed that she had written a 2015 Facebook post condemning IDF violence. In the post, she attacked Israeli Prime Minister Benjamin Netanyahu by saying, "Fuck you, Bibi."
The incident was representative of what many anti-occupation activists saw as the Sanders campaign's attempt to try and align the candidate with the anti-occupation movement while not engaging with the issue on a level that could exact a political toll further down the line.
Zimmerman, who now lives in Tel Aviv, said in an interview with Mic that Sanders' new energy around the subject has given her a new sense of optimism about the future.
"Seeing Sen. Sanders come out and lead out front on this issue is of course personally vindicating, but has more importantly given myself and others a sense of hope," Zimmerman said.
Zimmerman said she has paid attention as Sanders has taken bolder and bolder positions on Israel's treatment of Palestinians.
In both February 2017 and April 2018 Sanders gave speeches to the liberal Jewish anti-occupation group J Street, where he condemned Israel's occupation of the West Bank.
In April, during the first wave of Gaza protests, Sanders was the only member of the U.S. Senate willing to call out the Israel Defense Forces for their role in the violence.
Around that time, Sanders' office released a Facebook video that featured several prominent activists detailing the humanitarian crisis in Gaza.
"It's incredible," Zimmerman told Mic. "His Middle East policy speech during the campaign had one sentence about Gaza and two years later he came out and gave an entire speech at the J Street conference."
Asked if she would rejoin a future Bernie Sanders presidential campaign team, Zimmerman replied, "Hell yeah."
Zimmerman has also watched as the movement she helped found has pushed the American Jewish community and Democratic politicians to confront their role in supporting the violence.
On Monday, about 100 young American Jews organized with IfNotNow gathered in Washington D.C. to protest the violence in Gaza and the Trump administration's embassy decision.
Organizers erected what they called an "embassy of freedom" to stand in opposition to Trump's "embassy of occupation" in Jerusalem.
"This issue is already becoming a major wedge issue and support for this issue is growing very strongly in the left," Zimmerman said. "It's going to become increasingly untenable to be a Democratic leader like Schumer, who claims to support progressive values and then comes out and sends his well wishes to the opening of an embassy in Jerusalem. A few years from now I hope it will be impossible for someone to get away with that."