North Korea threatens to cancel summit with the US and suspends peace talks with South Korea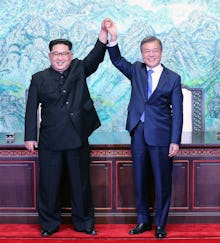 The denuclearization of the Korean peninsula has hit a snag.
North Korea on Tuesday suspended peace talks with South Korea and threatened to cancel an upcoming summit with the United States, saying continued military exercises conducted between the U.S. and South Korea amount to "deliberate provocation," according to CNN's Jake Tapper.
Leaders from both North and South Korea were set to meet Wednesday as part of their continued peace talks, according to the AP, which began after a historic meeting between both countries' leaders in April.
President Donald Trump has been touting his upcoming meeting with North Korea's Kim Jong Un — which he announced would take place on June 12 in Singapore.
Trump has been laudatory of Kim, and expressed optimism that denuclearization is possible.
Yet North Korea canceling planned talks with South Korea, and its threat to also cancel its planned meeting with Trump, is just the latest sign that reaching a deal will be challenging.