'RuPaul's Drag Race' season 10, episode 10: The final judging could foreshadow what's to come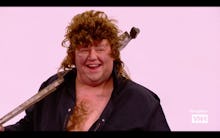 Hello, my chipper little cherries. Welcome to Fundamental Reading, the weekly column where we chat about RuPaul's Drag Race.
This week, in a challenge that very rudely reminded me I need to apply for my AARP card, the remaining six queens were tasked with making over social media stars and influencers. For the mini-challenge, the girls had to masc it up in boy drag and pose in a fake perfume ad — and Eureka hammed the hardest. As the mulleted BJ (which stands for "being a jokester," you gutter-minded degenerate), she blew away the competition. In winning, she earned the power to pair each queen up with their very own millennial whippersnapper.
She did so, in her words, to bring queens to their "demise." That seemingly boiled down to pairing up black queens with white boys and vice versa, in hopes they would look dissimilar on stage and that the queens would have trouble doing makeup on people with different skin tones from their own.
The pairs were as follows:
• Monét X Change with Tyler Oakley (my more successful doppelgänger)
• Asia O'Hara with Raymond Braun (social justice twink)
• Miz Cracker with Chester See (the straight one)
• Aquaria with Kingsley (the one I really would've loved to see paired with The Vixen)
• Eureka with Frankie Grande (the tropical toucan with a spray tan)
• Kameron Michaels with Anthony Padilla (the other straight one, beardless edition)
Rather than break down the beat-by-beat drama, we need to discuss the final judging, which felt off to me. During deliberation, the judges evaluated for family resemblance and the quality of the makeover, both externally and in terms of the new queens' onstage personas. Based on those criteria, it seemed like Aquaria and Kameron should've been in the bottom. Neither makeover was visually cohesive with their drag mother, and Aquaria's partner Capricia Corn was demure and careful. That stood in stark contrast to Aquaria, who dominated the stage with her confidence.
Instead, Ru placed Monét, who had been in the bottom twice before, in the bottom two alongside Kameron. Monét's transformation of Tyler into Short Change was by no means a knockout, but it was far from disastrous — Short Change's brows were thin and cartoony, but her and Monét's color palettes and styling were in concert with one another. Both wore iridescent, green, form-fitting garments, both had teased-out wigs and both wore Tyler's trademark dark-rimmed glasses — a touch I appreciated. Though it likely stemmed out of sheer practicality to keep Tyler's vision in check, it helped make it feel like the two molded a bit into one another, rather than Monét forcing Tyler to strictly adhere to her aesthetic.
Regardless, the final lip sync between Monét and Kameron, to guest judge Lizzo's "Good As Hell," didn't go well for Monét. She took more risks than Kameron, jaunting around the stage and trying to turn up the comedy factor, but that clownery verged on sloppiness. At one point, she tried to do a split with a running start, but ended up coasting too far, shattering one of the lightbulbs framing the edge of the stage with her heel. Once the camera cut to Ru looking down her nose at Monét, I knew it was over.
Kameron, despite taking fewer risks and hitting a middle split in a nearly beat-for-beat recreation of her lip sync last week, didn't cost Ru her security deposit. That was enough for Ru, who decided to save Kameron and send Monét packing. This felt unjust to me, since Monét has consistently been one of the most entertaining queens of the season, on and off the stage. It's a particularly hard pill to swallow coming off of the eliminations of Monique Heart and The Vixen. But with some reflection, it's becoming clearer why Aquaria may have evaded the bottom two — if you don't mind some speculation.
With Cracker's win in mind, and the fact that Cracker's transformation of Chester into the surprisingly gorgeous Miz Cookie was an absolute knockout, it seems that Ru could be crafting a final face-off between Cracker and Aquaria. Their "bitch stole my look" feud from the season's earlier episodes evaporated with little fanfare, so it's possible we're on the verge of seeing them lip sync against each other to close that arc more definitively.
Think about it: Cracker and Aquaria are the only remaining queens who have yet to lip sync and they already have a long-standing beef rooted in comparisons between the two. With The Vixen gone, it was clear that the show's producers would have to find a new narrative thread, so it might make sense to pick this one up again later. Since Cracker could've easily landed in the bottom two last week, but evaded a lip sync much like Aquaria did here, that outcome is looking increasingly likely.
I can't imagine Kameron will be able to skate by yet another week, so we're likely looking at an eventual top four of Eureka, Miz Cracker, Asia and Aquaria — assuming this season follows the same structure as season nine, that is. But that's still several weeks away. Before we get to all that, here's a recap of how each makeover turned out, in the order they appeared on the runway.
Asia O'Hara and America O'Hara
The most astonishing thing about Asia this week was her ability to create a second coat for her partner that looked enough like the one she already owned. The two didn't look identical, but it was a stunning display of craftsmanship nonetheless. Furthermore, America didn't look like a cheap knock-off — she looked like her own queen who just so happened to be in the same house with Asia.
Judges' final ranking: High
Eureka and Eufreka
I can't believe I took this long to talk about Eureka and Cynthia Lee Fontaine — I mean, Eufreka — but here we are. Much as it pains me to say it, these two did a great job playing off of one another, creating a cohesive aesthetic and shaping a narrative in which Eufreka was desperately trying to copy Eureka's mannerisms.
Judges' final ranking: High
Aquaria and Capricia Corn
Here, both Aquaria and Capricia looked stunning — but Aquaria looked miles better. They also looked nothing alike except for their red, white and black color palettes. Aquaria evoked royalty, with her billowing, dramatic red coat over thigh-high black boots. Capricia, on the other hand, wore a strapless dress with a white bodice and a red skirt.
Judges' final ranking: Low
Miz Cracker and Miz Cookie
Cracker and Cookie were polished and poised in their pink, silk, floral outfits and platinum blonde wigs. They both looked confident onstage, interacting with each other — and the judges — with ease and magnetism. Watch your back, Winter Green.
Judges' final ranking: Winner
Monét X Change and Short Change
Monét and Short Change both emerged onstage with confidence in body-hugging, iridescent jade cocktail outfits, teased-out wigs and dark-rimmed glasses. Unfortunately, Short Change's brow makeup was particularly strange-looking, making her look outdated and cheap.
Judges' final ranking: Eliminated
Kameron Michaels and Kelly Michaels
Kameron and Kelly both wore similar outfits and wigs, but they were entirely different colors, which made them look too dissimilar to pass for drag sisters. Kelly also struggled to walk in her heels and didn't have the most, shall we say, graceful of movements on the runway.
Judges' final ranking: Bottom two