Mary Scanlon wins crowded primary for newly drawn safe Democratic Pennsylvania district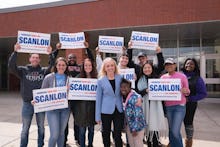 Lawyer and education advocate Mary Gay Scanlon has won the crowded primary to be the Democratic candidate in Pennsylvania's newly drawn 5th District — a seat many believe is now safe territory for Democrats.
The Washington Post called the race for Scanlon, who was ahead of her nearest opponent by nearly 13 percentage points.
In January the Pennsylvania Supreme Court ruled that the state needed to redraw its congressional districts to undo partisan gerrymandering that favored Republicans. The new map changed what is now Pennsylvania's 5th Congressional District from a swing district to one that Hillary Clinton would have won by 28 points, giving the winner of Tuesday's primary an easy road to victory in November.
Ten Democratic candidates were all vying for the nomination on Tuesday. Ahead of the primary, polls favored state Rep. Greg Vitali, while Scanlon and another candidate, former prosecutor Ashley Lunkenheimer, were leading the race to raise the most money.
Scanlon had received the backing of several major figures in Pennsylvania including former Democratic Governor and DNC chair Ed Rendell.
Rich Lazer, a labor union backed progressive candidate running on Medicare for All and a $15 per hour minimum wage, earned a late endorsement from Vermont Sen. Bernie Sanders over the weekend. Lazer was not expected to be much of a contender in the race, but was in second place behind Scanlon at the the time the race was called.
Scanlon will face Republican candidate Pearl Kim in November, in what is likely to be an easy Democratic victory.