Women win key primaries across the country, while House Republicans looking for promotions falter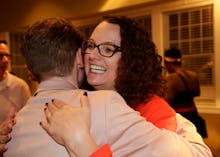 Welcome to Mic's daily read on Donald Trump's America. Want to receive this as a daily email in your inbox? Subscribe here.
Good morning from Emily Singer at Mic.
Here's what's happening in Trump's America:
• The country waits for the White House's response to North Korea's threat to cancel the upcoming summit between Donald Trump and Kim Jong Un. On Tuesday night, the White House simply said it was "aware" of the report.
About last night: Primaries galore
Tuesday night's spate of primaries had two main takeaways: It's great to be a woman running for Congress in 2018 and terrible to be an incumbent House Republican.
Women candidates won Democratic primaries in a number of key contests in Pennsylvania and Nebraska, while GOP lawmakers looking for political promotions struggled.
The results mean Pennsylvania's all-male congressional delegation will come to an end, as a number of the women who won Democratic primaries in the Keystone State are poised to win general elections in November. In fact, Democrats will likely pick up a handful of seats from Republicans in the state, thanks to a redistricting ruling forcing a redrawn map that's more evenly split between Democrats and Republicans.
Women victors in Pennsylvania include:
• State Rep. Madeleine Dean won a primary in Pennsylvania's newly drawn 4th District, which is rated safe for Democrats.
In Nebraska, Kara Eastman, a progressive Democrat and also a nonprofit company executive, defeated former Rep. Brad Ashford in the state's Omaha-based 2nd District. Democrats believed Ashford had a better shot at ousting freshman GOP Rep. Don Bacon in this seat, which is rated a tilt Republican contest by Inside Elections.
It wasn't just congressional races where women did well.
In Idaho, state Sen. Paulette Jordan defeated a well-known Democrat to win a primary for the state's gubernatorial contest. Jordan faces an uphill battle in this deeply Republican state, but if she wins, she'll be the first Native American governor in the U.S.
As for House Republicans, Idaho GOP Rep. Raúl Labrador lost a primary for an open gubernatorial contest in his home state. Labrador is now the fourth House Republican to lose a bid for higher office. On May 8, two House Republicans in Indiana and one House Republican in West Virginia lost primary races for Senate.
A second House Republican, Rep. Lou Barletta, won the GOP Senate primary in Pennsylvania. Barletta had the backing of both Trump and national Republicans.
Other notable results include a special election victory by Democrat Helen Tai in Pennsylvania's 178th state House District. Tai flipped a seat that Trump carried in 2016, making it yet another data point that Democrats are riding tailwinds into the November midterms.
And in Pennsylvania, John Fetterman defeated the incumbent lieutenant governor in a Democratic primary. Fetterman, the tattooed former mayor of a small Rust Belt town in the western part of the state, is not your typical politician.
Today in Trump's America: North Korea throws a wrench in denuclearization talks
North Korea's decision to postpone peace talks with South Korea as well as threaten to cancel a planned meeting between Trump and North Korean leader Kim Jong Un has caught the global community off guard.
According to a report from the South Korean media outlet Yonhap News, North Korea is angry about the continuation of regularly scheduled joint military exercises being carried out by the U.S. and South Korea. North Korea called those exercises "deliberate provocation."
So far, the White House and State Department haven't said much about North Korea's threat.
"We are aware of the South Korean media report," White House press secretary Sarah Huckabee Sanders said in a statement after the threat was first reported Tuesday. "The United States will look at what North Korea has said independently and continue to coordinate closely with our allies."
State Department spokeswoman Heather Nauert said at a briefing Tuesday that the department hadn't "had a whole lot of time to dig into" North Korea's comments and added the U.S. "will continue to go ahead and plan the meeting between President Trump and Kim Jong Un."
"I will say that Kim Jong Un had said previously that he understands the need and the utility of the United States and the Republic of Korea continuing in its joint exercises," Nauert said at a Tuesday news conference. "They're exercises that are legal; they're planned well, well in advance."
Coming just weeks after North and South Korea signed a historic peace talk agreement, it's a reminder that the eventual goal of denuclearization remains treacherous and difficult.
Capitol Hill happenings: Senate will vote on whether to bring back net neutrality
Senate Democrats forced a vote Wednesday to bring back net neutrality — the rule that required internet service providers to provide the same level of speed at the same cost to every customer. (Mic has a great explainer about how net neutrality works that you can watch below.)
The Federal Communications Commission, led by Trump pick Ajit Pai, voted to repeal net neutrality in 2017, against the wishes of major companies, such as Netflix, Amazon, Facebook and Google, and a large swath of everyday web users across the U.S.
Today's vote is likely to succeed in bringing net neutrality back, as it's backed by all 49 Democrats and GOP Sen. Susan Collins (R-Maine), according to CNN. With Sen. John McCain absent as he battles brain cancer, that would give the pro-net neutrality 50 votes and a majority.
Still, while the Senate may vote to bring back net neutrality, the Republican-controlled House likely will not.
Net neutrality is currently scheduled to end June 11.
And the rest…
#MeToo: Rep. Blake Farenthold, the Texas Republican who resigned in disgrace amid allegations of sexual harassment, says he won't return the $84,000 in taxpayer money that he used to settle a sexual harassment allegation from a former staffer. Farenthold also announced he received a new $160,000-a-year job as a government lobbyist.