HelloFresh's newest feature could cut your lunch costs in half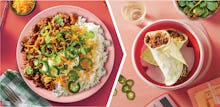 The average American worker spends around $53 each week on lunch. Ten bucks a day for a joy-inducing sandwich might seem like a small luxury, given how many hours we spend at work. But lunchtime packs a hefty price tag: $2,746 is probably more than most of us would care to spend on deli meat in a year.
Meal-kit company HelloFresh is attempting to change up the lunchtime routine — and the associated costs — with its new Dinner 2 Lunch feature that launches Monday.
The program provides recipes that allow customers to "cook once and eat twice," according to a press release. What's more, these meals aren't simply leftovers: HelloFresh provides additional ingredients for $5 per lunch to transform the original meal into something new. Customers can either prep lunch the night before or craft the reimagined meal at work — the assembly takes five minutes or less, HelloFresh said.
The chorizo beef chili you had for dinner, for example, becomes a fully loaded chili burrito at lunchtime with the box's added Roma tomato, two tortillas, sour cream, cheddar cheese and cilantro. The lunch add-on, which serves two, is available for $10 and can be added to the two-serving or four-serving plan. Other Dinner 2 Lunch creations include sausage and zucchini pizza that turns into pasta salad; honey Sriracha pork chops become banh mi sandwiches; and BBQ chicken and poblano quesadillas transforms into a chicken and rice bowl with black bean salsa.
"HelloFresh is very big on not having [food] left over — they're very sustainable," public relations manager Kim Straus said, emphasizing how the meal program doesn't play into the food waste epidemic.
Beyond saving food from ending up in the trash, HelloFresh's Dinner 2 Lunch can ostensibly save customers money by cutting lunch costs in half. As an added bonus, research suggests eating homemade meals is often healthier than dining out.
If you haven't dipped your toe into the world of meal kits, HelloFresh — which recently overtook Blue Apron in market share — is certainly a popular choice. While Dinner 2 Lunch will initially serve customers who order off the classic menu, Straus said that if the program finds success, the option is likely to roll out to the company's specialized menus, like vegan and vegetarian.