Why Aja doesn't want to create "drag music" — and why that's not an insult to those that do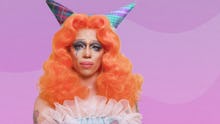 There are myriad ways a queen's career can go post-Drag Race. One can continue club gigs, with the assumption their bookings will increase (and hopefully their rate will go up, too). One can go on tour, star in films, write books, mount theatrical productions, create fashion films, make herstory on Broadway. Or perhaps a queen takes the most common post-show avenue and releases music.
Alaska Thunderuck, Bob the Drag Queen, Trixie Mattel, Sharon Needles, Bebe Zahara Benet, Raja, Ginger Minj, Shangela, Tatiana, Jinkx Monsoon, Courtney Act, Violet Chachki, Adore Delano, Miss Fame, Manila Luzon, Laganja Estranja, Phi Phi O'Hara, Pearl, Alyssa Edwards, Latrice Royale, Honey Mahogany, Pandora Boxx, Detox and Tammie Brown are part of the not-so-few roster of queens who have recorded music since appearing on the show.
And now we can add Aja, the RuPaul's Drag Race season 9/All-Stars 3 alum, to that list. On May 11, they released their very first E.P., In My Feelings. The album was pre-empted by lead single "Finish Her!" and the follow-up single, "Brujería," was dubbed "unironically great" by Mic.
"I really just wanted to touch on the fact that the media has often misrepresented Afro-Caribbean practices and deemed that as evil or demonic," Aja said of the song, which is the Spanish word for "witchcraft," and its accompanying video.
Aja's foray into music has given fans something to whet their appetites, but as it often goes, particularly in the dragosphere, the insatiable fans are often the loudest — and most critical — online. That doesn't phase Aja though.
"I like to talk back because I'm all about getting to see other people's perspectives," Aja said. "If someone tells me 'your music is trash,' I'm going to want to know why they think that. When they give me that negative feedback, I just think, 'Who are you and what do you do again?' You don't have to like it, if you don't like it it's not for you, I get it, but I'm not going to kill myself over it."
Now, does Aja consider their music drag music, an unofficial genre that some use to characterize music released by queens? "It's such a weird subject," they explained. "People get offended by it for some reason. It's not an offensive term; I just really don't consider my music drag music. I'm not rapping about lip gloss and lace fronts."
Instead, Aja raps about subjects familiar to fans of artists like Nicki Minaj or Cardi B: Navigating fame (and the moochers it brings about), boasting about artistic and sexual prowess and asserting the fact that they're "hood but I'm educated." Case in point, their references, which range from Nefertiti to Tilda Swinton to Marsha P. Johnson.
"I feel like drag music is more obviously made for the Drag Race fandom; drag songs that have no point or a parody or really devoid of any message," they said. "I don't do parodies, and I'm not writing music that has no point or makes no sense or just because it's funny or fun. My music has a point and a message. I feel like there are other drag artists, like Adore Delano, I don't consider her music drag music, it's just regular music. Or Pabllo Vittar, I wouldn't consider that drag music; she's a pop star. I don't consider my music to be drag music nor do I consider it to be told from a drag point of view. My music is moreso told from a very blurred, non-binary point of view."
So should we expect an L.P. any time soon? "Most of these tracks are written in a plane ride or overnight the day before we went into the studio because we had no time. So I really want to sit back and really invest a lot of time into writing music so that way I can deliver a full-on zhuzh album."