2 transgender women found dead in Dallas just days apart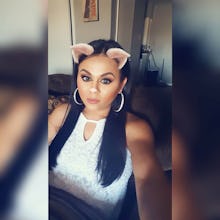 Two transgender women of color have been found dead in Dallas less than a week apart, in what local authorities have said are unrelated incidents. On May 9, Dallas police were called to the home of Carla Patricia Flores-Pavon, 26, around 4 p.m. in the afternoon. Flores-Pavon, who went by Karla on Facebook, was pronounced dead at a hospital, local outlet CBS11 reported on Thursday. Police are calling her death a homicide.
Just days later, on Saturday evening, the body of an unidentified trans woman was found floating in a creek in North Dallas, the Dallas Morning News reported. In a statement on Tuesday, Dallas police said the woman's death was currently being called "an unexplained death" until the county medical office releases an official cause of death. Police urged anyone with information about the woman's identity to contact authorities.
Police say there's no connection between the two incidents, the Star-Telegram reported on Wednesday. Leslie McMurray, a trans rights advocate with the Dallas-based Resource Center, an LGBTQ community center, said in a phone interview on Wednesday that she's taking a "wait and see" approach, waiting for authorities to determine whether the woman found dead on Saturday is another homicide victim. But still, McMurray said, the deaths of two trans women in Dallas just days apart is a reminder of the systemic factors making life more difficult — and more dangerous — for trans people every day.
"I think we need to get at the underlying reasons at why so many people view our lives as disposable," McMurray said, citing a slew of measures that institutionalize discrimination against trans people, like President Donald Trump's attempted ban on trans people in the military, Housing and Urban Development Secretary Ben Carson's removal of guidelines intended to protect trans people in homeless shelters and the widespread lack of housing and employment protections for trans people.
"You look at that whole big stack and it's just this consistent drumbeat of discrimination that's institutional," McMurray said. But she added that violence against trans people, in her view, inspires more anger than fear in the trans community.
"We're also getting pretty fed up and we're getting angry," McMurray said. "We want a solution to this, we want to feel like our lives have value."
On Sunday, mourners held a vigil for Flores-Pavon at a local church, NBC 5 reported. Monica Roberts, of the Dallas-based organization Black Transwomen Inc., attended the vigil and expressed dismay at Dallas police's decision not to investigate Flores-Pavon's homicide as a hate crime.
"These murder cases tend to be exceptionally violent and we fail to understand in the community why they aren't classified as hate crimes," Roberts told NBC 5.
She added that she hoped more education about the trans community would make things safer for trans people.
"As people are educated about the issues of transgender folks, either on the transfeminine or transmasculine spectrum," Roberts said, "acceptance follows along."