Trump reimbursed Michael Cohen for Stormy Daniels hush money payment, new documents reveal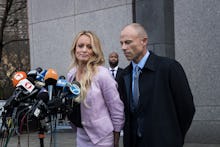 It's official: President Donald Trump reimbursed his personal attorney, Michael Cohen, for the $130,000 hush money payment to porn actress Stormy Daniels.
The revelation comes in Trump's personal financial disclosure report, which he filed Tuesday with the Office of Government Ethics, and which the OGE officially certified and released to the public Wednesday afternoon.
"In the interest of transparency, while not required to be disclosed as 'reportable liabilities' on part 8, in 2016 expenses were incurred by one of Donald J. Trump's attorneys, Michael Cohen," according to page 45 of the disclosure report. "Mr. Cohen sought reimbursement of those expenses and Mr. Trump fully reimbursed Mr. Cohen in 2017. The category of value would be $100,001 to $250,000 and the interest rate would be zero."
The revelation puts to rest the ever-changing story about the payment, and shows both Trump and Cohen lied about it. In February, Cohen said he was never reimbursed for payment to Daniels.
"Neither the Trump Organization nor the Trump campaign was a party to the transaction with Ms. Clifford, and neither reimbursed me for the payment, either directly or indirectly," Cohen said in a statement to the New York Times. "The payment to Ms. Clifford was lawful, and was not a campaign contribution or a campaign expenditure by anyone."
Then on April 5, Trump told reporters aboard Air Force One that he didn't know about the payment to Daniels.
Reporter: Mr. President, did you know about the $130,000 payment to Stormy Daniels?
Trump: No. No. What else?
Reporter: Then why did Michael Cohen make those if there was no truth to her allegations?
Trump: Well, you'll have to ask Michael Cohen. Michael is my attorney. And you'll have to ask Michael Cohen.
Reporter: Do you know where he got the money to make that payment?
One of the newest members of Trump's legal team, former New York City Mayor Rudy Giuliani, eventually came clean to Fox News earlier this month, saying Cohen was reimbursed for the hush money payment. Trump later claimed Giuliani didn't have his "fact straight" when he made those comments.
However, the personal financial disclosure form proves that Giuliani was correct.
The payment is under scrutiny by federal investigators, who raided Cohen's residence and office in New York seeking documents related to the Daniels payment. Experts say the payment may be a violation of campaign finance laws.