Naomi Wadler: In a just world, kids could go to school without the fear of a bullet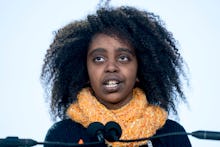 Don't let her age fool you: Even though Naomi Wadler is only 11 years old, she's starting national movements at a high school level.
As the youngest speaker at the March for Our Lives, a massive youth-led rally demanding legislative solutions for common-sense gun reform in the U.S., Wadler called on America to remember the black women and girls who are disproportionately affected by violence.
"I am here today to acknowledge and represent the African-American girls whose stories don't make the front page of every national newspaper," Wadler said at the March 24 event. "Whose stories don't lead on the evening news.
"I urge everyone here and everyone who hears my voice to join me in telling the stories that aren't told," she added. "To honor the girls, the women of color, who are murdered at disproportionate rates in this nation. I urge each of you to help me write the narrative for this world and understand, so that these girls and women are never forgotten."
Now, in a video op-ed for Mic, Wadler reveals how you can join her in rewriting the narrative on gun violence in America — no matter your race, age or socioeconomic class.
"You can start anywhere," she said. "You can start by educating yourself. You can start by educating other people. You can run a book drive on books that involve your topic. You can give speeches like I am now. You can write a book yourself. Anything really that you can be active in your own little community.
"You don't have to start big, speaking at all these rallies," Wadler continued. "If you've made an impact, even the smallest impact, you have done something and you have contributed to the movement that we are trying to put forward."
Watch Naomi Wadler's powerful op-ed for Mic above.