The subtle ways Disney World makes sure it's the "happiest place on Earth" for people of all sizes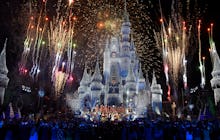 April Hammond goes to Disney World at least once a week. For Hammond, who lives just 45 minutes outside Orlando, Florida, the amusement park truly is the so-called "happiest place on Earth." Her weekly visits help inform what she publishes on her blog, Pixie Dust Savings, which arms readers with copious amounts of Disney knowledge — from how to visit on a budget (she swears it's possible) to navigating the amusement park as a plus-sized visitor.
In fact, multiple online communities have emerged to publicize the fact that Disney is an accommodating respite for people in bigger bodies. With more than 29,000 members, the Facebook group Disney Parks for Plus-Sized Guests is teeming with superfans gushing about the fun times they've shared with families and friends at the theme park.
"The thing that makes Disney so different is that they think of everything!" one group member wrote in response to a question Mic posted about what makes the park so size-inclusive. "You almost never have to worry about accessible seating for rides. When you use the spa you know the robes will fit you, and if you need specific seating (armless chairs, table, etc), they make it happen without even asking usually."
While Disney declined to comment for this story, the brand has been outspoken about its commitment to diversity in both its staffing and services. "To understand and meet the needs of diverse consumers, fans, guests and viewers, our opinions, products and perspectives must include a multitude of ideas, sensibilities and experiences," Paul Richardson, Disney's chief diversity officer, told Profiles in Diversity Journal.
Unlike some other destinations, which seem to consider comfort for bigger bodies an afterthought — if they consider them at all — Disney has used its magic to welcome guests of all sizes. The design isn't without flaws, but many of Disney's standards might serve as a model for developing businesses who care to increase both their customer base and customer satisfaction. After all, who wouldn't want a patron who commits to spending money at least once every seven days?
Prioritizing fun — and comfort — for all
"From entry to seating in rides, restaurants, shows and even restrooms, Disney has thought of everything to make our Pooh-sized days comfortable," another member of the Facebook group told Mic. "The cast members have been nice enough to stop or slow down a ride for [my mom] to get on. Disney has made sure that everyone, regardless of size, height or disability, has a wonderful and magical time."
Disney's consideration for plus-size guests extends to its rides, Hammond said. Most of the rides are not size-restrictive — and if they are, accommodations like seatbelt extensions are usually available to improve the experience. She also said Disney's rules lend themselves to comfort and convenience rather than efficiency. Ride guides "won't cram two people into a space that's too small," she noted, instead allowing guests to ride solo.
Hammond pointed to the "spectacular service" she received at Epcot's Spaceship Earth ride as an example. "I'm tall, and sometimes without asking, they'll tell me, 'You'll want the back row because it has more leg room,'" she said.
Disney has removed most turnstiles from its parks to make entry more comfortable for all guests, Stephen Ashley, author of Walt Disney World with Disabilities and the blogger behind Diz-Abled.com, said in an email. In addition, "Disney's cast members have undergone training to support those who are plus-size," Ashley said. "Guests can make special requests, which will usually be supported, such as requesting fewer people be placed in your row."
The experts behind AllEars.net explain that many Disney rides have bench seating, which are meant to hold anywhere from two to 10 guests. But again, hitting maximum occupancy isn't a priority. "Cast members are trained to recognize that with a larger guest, they can only seat five instead of six in a row, for example," the website reads.
Promoting accessibility throughout the parks
One very user-friendly feature? Disney's website allows users to filter attractions by accessibility: A guest can see whether a ride is suitable for wheelchair transfers, service animals and more.
Most Disney patrons know experiencing the park requires a lot of walking. While this may pose obstacles for some, Disney offers services to make getting around easier. "For our readers who have any kind of mobility challenges or conditions that could flair under those circumstances, we recommend that they get a mobility scooter or wheelchair for the length of their trip," said Ashley.
Hammond also stressed the intense amount of walking, standing and waiting at Disney, explaining that renting a scooter or wheelchair is a good option for associated discomfort. And, she mentioned, the staff don't require a reason for needing a vehicle, though certain park guests may sometimes give "a look." But perspective is key here. "The way I look at it, some guests at the park may say something or give you looks or whatever, but if I need to use those things to make my day better, then I'm going to use those things."
Ashley said renting vehicles directly from Disney is useful, but it has drawbacks: The scooters are more expensive than non-Disney scooters, and they cannot be taken out of the parks, meaning users will have to give them up before heading back to the resort or waiting for transportation. This is why Ashley recommends renting from a non-Disney company, which he said Disney is helpful with. "[Disney] vetted five scooter/wheelchair companies that it recommend, and it works with these companies to make the process more convenient for guests," he explained. "These five companies are allowed to drop off and pick up wheelchairs/scooters at the guests' Disney resort, without the guests being there.
Training cast to give every guest the best experience possible
Many Disney guests take advantage of the sample seats located in front of attractions. The unattached seats can literally be tried on for size, so guests can make sure they'll be comfortable on the ride before committing to a long wait time. Unfortunately, not all rides come with this feature, which caused a problem for Hammond on two separate occasions.
On the Seven Dwarf Mine Train, Hammond was denied a ride due to the length of her legs. "Obviously, you're going to feel some sort of embarrassment, but Disney did its best to make the situation better," Hammond said. The ride staff gave her a free Fast Pass ticket so that she could enjoy another ride of her choice without waiting in line.
Fostering a community of devotees who make it easy to plan ahead
Ashley describes Disney as "one of the easiest places on Earth to travel to for plus-sized bodies or others with extra challenges." But there's a caveat: You have to plan well. "Disney World is a rather complicated trip to plan for anyone, but for those with extra challenges, they should take the time to research and plan in advance," he said. "I find that a lot of folks don't really do that and they end up wishing they did."
It's important to know about your resources before you need them, Ashley explained. For one, Disney has first aid stations in every park that offer a variety of services. The parks are also equipped with baby care centers and many options for people with special dietary needs. "It's pretty much a haven for anyone with diet limitations," Ashley said. As for any other questions you may have, there's an endless world of unaffiliated Disney devotees on the internet, ready to come to your rescue.