Buying tickets online is a massive headache — here's why companies can charge all those fees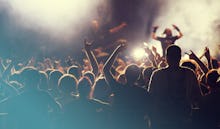 You don't need to wind up stranded on a desert island for the process of buying event tickets online to leave a bad taste in your mouth. Ticket-grabbing bots, a stressful countdown timer and inexplicable "service" fees are a few of the annoyances that come with every online purchase. The top vendor in the country, Ticketmaster, has been fighting with artists, fans and regulators for decades, as detailed in a 1995 Rolling Stone story about the band Pearl Jam, then the top-selling rock act in the country.
Pearl Jam and its allies ended up losing in court, and Ticketmaster's influence on the music industry has only grown since. Middle men like Ticketmaster are not solely to blame for your ticket troubles: Streaming platforms and their meager payouts have also left artists ever more dependent on live shows to make a living. But critics of the ticketing industry have grown vocal enough to prompt a government inquiry whose results were published on Monday.
The company's grip on the live music industry intensified in 2010, when Ticketmaster merged with Live Nation, a company that manages and promotes artists like Jay-Z, as well as operating venues and festivals like Bonnaroo and Lollapalooza. A recent Government Accountability Office inquiry into consumer protection issues GAO found instances where the service fee was almost a third the value of the ticket, and in many cases the fee disclosures were often lacking or even deceptive. Ticketmaster didn't immediately respond to a request for comment about the findings in the GAO report.
Part of the problem may be that Live Nation and Ticketmaster ended up getting a pretty sweet deal from the government regulators who approved their union, as David Dayen recently wrote in the New Republic. To proceed with the merger, which allowed them to dominate ticket sales and artist management, all the company had to do was sell off a minor subsidiary and let other companies license its now out-of-date ticketing software.
As a result, the same company that sells you Taylor Swift concert tickets, often also sometimes owns the venues where Taylor Swift plays. Critics say this has made the whole industry anti-competitive: Fans hoping to catch the summer tour are encouraged to enroll in Ticketmaster's "verified fan" program, as the Wall Street Journal notes. In the new initiative to combat scalpers, superfans qualify for presales by sharing branded posts on social media, among other things, essentially monetizing the fans themselves.
What is antitrust law and why should you care?
Critics argue that the government dropped the ball in enforcing antitrust laws, which are designed to keep the business landscape competitive.
When consumers don't have a choice in where to take their business, companies are more free to engage in all kinds of shenanigans, like jacking up prices for no reason or forcing you to buy a product you don't want in order to get a product you need.
By making you pay a third of the ticket price in the form of a fee, or encouraging you to transform yourself into a social media advertiser for its brand partners, critics like Dayen argue that Ticketmaster and Live Nation are clearly behaving like a monopoly. In a famous 1911 Supreme Court case, the courts ruled that when a company becomes a demonstrable monopoly, regulators should be able to break the company up into smaller ones.
In the meantime, states have been trying to do their part by cracking down on bots and other unsavory players in the resale marketplace, which can be even more expensive and has a dominant player of its own: StubHub.
Artists can also use their influence by trying to sell tickets to fans directly or going old school, which Nine Inch Nails plans to do for their upcoming tour. As the New York Daily News recently reported, fans hoping to catch the band will have to show up to the box office in person.
Sign up for The Payoff — your weekly crash course on how to live your best financial life.